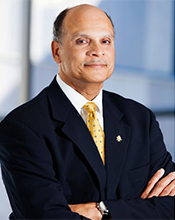 Large organizations are often referred to metaphorically as big ships: They don't change course quickly, and steering them in the right direction demands careful planning and a keen understanding of the waters in which you're traveling.
The success that North Carolina Agricultural and Technical State University is enjoying in the 2017-18 academic year is more easily understood in that context. We trace it back to the strategic plan we put in place in 2011 – A&T Preeminence 2020: Embracing Our Past, Creating Our Future. It charted a new direction for our university, and our disciplined, campus-wide implementation of the plan has fundamentally transformed the way we do business.
To hold ourselves accountable, we have publicly reported our progress on the plan's goals every year since implementation. With the culmination of Preeminence 2020 now three years away, we're surpassing some goals in key areas, such as undergraduate enrollment, new freshmen grade point average, graduation of students in STEM disciplines and athletic championships, and closing in on others. We also recognize the distance that remains to be covered before the journey is complete.
As a land-grant, doctoral, higher-research activity university, we also see goals that speak to progress in scientific inquiry as critical to our success. Our record year of $62.5 million in sponsored research in FY2017 was representative of an enterprise for which external funding has tripled over the past 16 years, the strong majority of it coming from federal sources. That funding and the discovery it makes possible reflects a status we have held for more than a decade as one of our state's top three public research campuses. It also positioned us to further diversify our research efforts and make even greater contributions in patent activity, tech transfer and business creation.
We began work in November on a refresh of Preeminence 2020, not only to gauge our momentum and refine our course within the highly competitive, dynamic higher education industry, but to incorporate goals and metrics from the new University of North Carolina System strategic plan for 2017-2022, Higher Expectations. The refresh process underscores for me an important, abiding truth about this work: It truly is never complete, but must always be in an ongoing cycle of activity, measurement, assessment and further planning.
Why is all of this so important? Our aspirations are too valuable to our many constituents in the Piedmont Triad region, the State of North Carolina, and the nation to allow our pursuit of them to be guided by happenstance. Preeminence 2020 is a map drawn of our collective intentions. Together, we are now sailing more swiftly on that course than ever before.
And there is still much work to be done.
- Chancellor Harold L. Martin, Sr.