A MONTHLY UPDATE ON EDUCATION, RESEARCH AND IMPACT


VOL. 1 / NO. 11 / November 2018



Chancellor's Message
Engaging Our Community, Together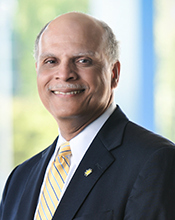 The season of giving always serves as a reminder of the prosperity we enjoy at North Carolina Agricultural and Technical State University and the many opportunities we have to pay those blessings forward to others throughout the year.
As the nation's largest historically black university and one of North Carolina's top three research institutions, we give back in part simply by being who we are: A place of learning and possibilities for more than 12,000 students–most of whom are the first in their families to attend a university–and a workplace of opportunity and professional development for our faculty and staff.
With so many thoughtful and altruistic students and employees, our university brims throughout the year with initiatives that put us in relationship with people, families and communities around East Greensboro and the state.
Those initiatives take many shapes, from a university-wide relief effort in April after tornadoes tore through the region southeast of the main A&T campus to Winter Wishes in Aggieland, which next week will see employees and students donate toys, clothing and monetary gifts to make the holidays special for fully half of the foster children in Guilford County (for the second consecutive year).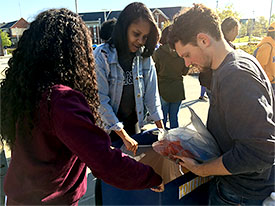 Many other initiatives are part of the fabric of our academic programs, from Cooperative Extension, which provides educational programs and technology to enrich the lives, land and economy of North Carolina's limited-resource individuals, families and communities, to service learning in our academic programs that connects students with community partners in projects that both educate and serve.
The university's commitment to those beyond our campus was recognized by the Carnegie Foundation for the Advancement of Teaching in 2015 with the Community Engagement Classification. The prestigious optional classification–colleges and universities take part in a rigorous application and evaluation process to earn the credential–recognizes A&T's work to address critical societal issues and improve teaching, learning, scholarship and research to produce graduates engaged in democratic values and civic responsibility.
Perhaps the noblest aspiration that any one of us can have is to do good and serve others. As we turn to the winter holidays and the conclusion of a year of rewarding service and engagement, we at A&T also aspire to be a collective force for good in the community, both now and in the new year.
- Chancellor Harold L. Martin Sr.

+ To learn more about North Carolina A&T, please visit iTunes and subscribe to the On Point with Chancellor Harold L. Martin podcast.

Trendline
Aggies Vote: Midterm Turnout Rises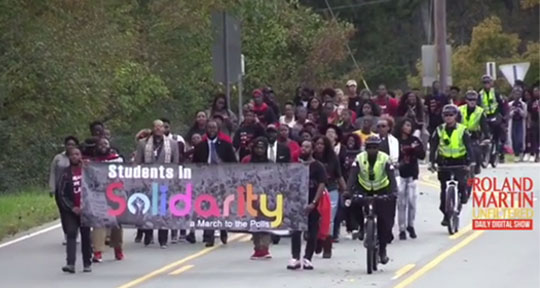 N.C. A&T students take part in a "Soles to the Polls" early-voting march.
We've all heard the knock on Millennials, Gen Z and frankly every generation of young adults for generations: They don't vote. Well, don't tell that about the N.C. A&T students, who turned out in big numbers for the Nov. 6 midterm elections, and drew major attention for their commitment to their civic duty.
At the lone A&T campus polling place, turnout surged by 51 percent over the 2014 midterm totals, while turnout spiked 29 percent at an off-campus location also serving A&T students living on or just off campus. Those numbers don't count off-campus, commuter and out-of-state students who voted in other jurisdictions.

Student leaders sought to have an on-campus early voting polling place, but their request was not approved. Undeterred, they organized a two-mile "soles to the polls" march from campus to an early voting site on Oct. 29. Videos of the march drew national news media exposure and tens of thousands of views on social media. A&T students also drew props from activists working to get young people to vote, like Parkland, Florida, massacre survivor David Hogg, who visited campus as part of a nationwide tour with a group called "Vote 4 Our Lives."
"North Carolina A&T is still the most civically engaged and politically involved college I've ever been to," Hogg tweeted on Nov. 2. "I asked 300 people if they have voted and only two said they hadn't but had a plan to. I wish that was the story at every college."


Impact
#InvestEast Fuels Economic Renaissance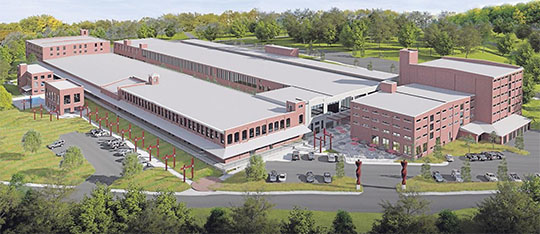 A rendering of the Printworks Mill development
In an effort that aligns with the economic leadership that North Carolina A&T is showing in East Greensboro, City of Greensboro officials and leaders of East Greensboro NOW joined together in September to unveil #InvestEast, a new campaign aimed at fostering development across the region.
The historically underserved eastern half of the city is enjoying a renaissance, with scores of housing, retail, university and public space projects underway and more on the drawing board. The #InvestEast website touts an area that boasts "diverse housing stock, offering more opportunity than any other portion of Greensboro and is alive with quality of life."
In pushing for new investment, the campaign points to the existing presence of such employers as Proctor & Gamble and Replacements, Ltd., the world's largest retailer of china, crystal and silverware, as well as campuses of four colleges and universities, including North Carolina A&T.
Projects newly underway in East Greensboro include:
Printworks Mill, a 470,000-square foot development in a historic mill building near the successful and similar Revolution Mills project. Builders broke ground in September. The project will feature mixed-income apartments, retail and residential amenities including a fitness center, landscaped courtyards and an extension of the Greensboro Greenway. Apartments are expected to come online in the second quarter of 2020.


Brightwood Park, one of several park developments. The 13-acre natural tree preserve will feature walking trails, an outdoor classroom and playgrounds. A few miles away, a former water treatment plant on White Street will be turned into a 90-acre park with a focus on sustainability and water issues, city officials say. And closer to A&T, Barber Park will feature new outdoor and existing indoor basketball courts, named for A&T alumnus Kenneth "Ken" Free, a longtime local sports advocate who was the first commissioner of the Mid-Eastern Athletic Conference.

A mammoth 1.8 million-square foot distribution center for Publix, one of the nation's leading grocery chains. Publix announced plans to locate the center in Greensboro in August–a project that would bring more than 1,000 jobs to the area. Publix acquired 340 acres in East Greensboro for the center in October at a cost of $28.5 million
"Just as North Carolina A&T is growing, East Greensboro is really coming into its own as a focal point of new development," said A&T Director of External Affairs Ray Trapp. "It's exciting to imagine what this area will be like in another three to five years."


These Three Things
Campus Construction Builds Community, Too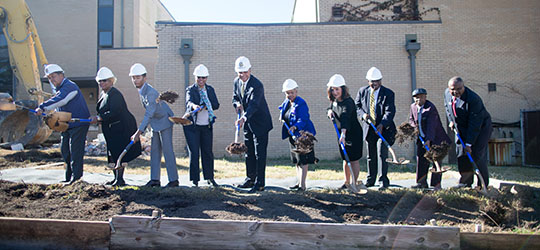 Chancellor Harold L. Martin Sr., center, joins state, local and other university leaders in breaking ground on the Engineering Research and Innovation Complex.
Every step in development that North Carolina A&T takes has an impact on the community surrounding the university, from the spending that thousands of additional students and employees bring to area businesses to the career opportunities that new academic programming make possible for nearby residents who enroll in certificate or degree programs.
A&T's current building boom, however, brings concentrated impact during the construction period, in the form of employment, contracted services and dollars that flow through the area economy. All of these projects give back to the community in many ways, but these three are particularly notable for what they'll make possible for local residents and the magnitude of impact they'll have on the surrounding area.
University Farm Complex. College of Agriculture and Environmental Sciences leaders broke ground on this four-component, $12.3 million complex in July. The first component is the $6-million CAES Extension and Farm Pavilion, a 17,000-square-foot structure will include an auditorium, laboratories, a demonstration kitchen, a 50-person capacity classroom and a 400-person conference room. It is expected to be completed in late 2019. Coming next: Student and Community Gardens, an urban food complex with a business incubator and an expanded dairy, capable of creating A&T branded products such as ice cream, yogurt and butter.
Student Center. The sprawling, $90 million Student Center that opened in September was years in the making, but few would argue it wasn't worth the wait. The 150,000-square foot, three-story complex features state-of-the-art recreation and gaming rooms, the university bookstore, meeting and study spaces, a ballroom, lounge areas, outdoor patios and terraces. Additionally, new and current food service options are housed in the center, including Bistro 1891, Market Place Dining, Aggie Wings Restaurant, Chick-Fil-A, Subconnection and Einstein Bros. Bagel Shop. Homecoming in early November saw the facility teeming with alumni, parents and other campus visitors enjoying the many amenities of the beautiful new structure.
Engineering Research and Innovation Complex. University officials broke ground in October on this exciting new $90-million home for the nationally recognized A&T College of Engineering. A fence surrounding the construction site bears images of an architectural rendering of the gleaming structure that will be the first university building that campus visitors will see when they approach Aggieland from downtown Greensboro. The complex is scheduled to open in late 2021.


Data Points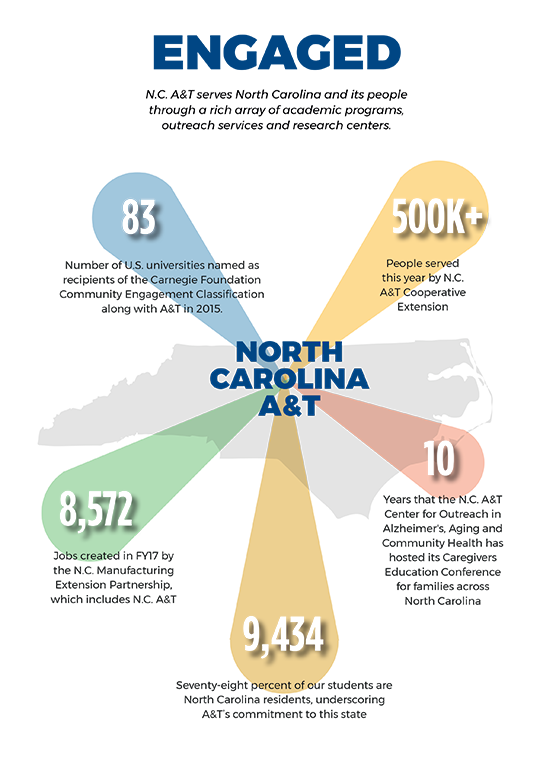 CHANCELLOR
Dr. Harold L. Martin Sr.

CHIEF OF STAFF
Erin Hill Hart, Interim


ASSOCIATE VICE CHANCELLOR
Todd Hurst Simmons




WEB MANAGER
Yvonne L. Halley

STAFF WRITERS
Tonya D. Dixon
Jordan M. Howse


North Carolina Agricultural and Technical State University is a land-grant university that is ranked by the Carnegie Classification of Institutions of Higher Education as a Doctoral University: Higher Research Activity.

N.C. A&T does not discriminate against any person on the basis of age, color, disability, gender identity, genetic information, national origin, race, religion, sex, sexual orientation, veteran status, or any other basis protected by law. For inquiries regarding non-discrimination policies, contact the Title IX Coordinator at titleixcoordinator@ncat.edu.

N.C. A&T is an AA/EEO employer, and it is an ADA compliant institution; thus, facilities are designed to provide accessibility to individuals with physical disabilities.