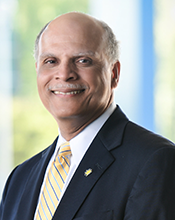 Of the many exceptional years we have enjoyed at North Carolina Agricultural and Technical State University, 2018 was one of the best. From setting records in enrollment to achieving our second consecutive black college football national championship to winning major engineering competitions, hardly a week passed without something of major consequence transpiring at our university.

It's important to take time as the year draws to a close to reflect on those significant points of progress. We all enjoy savoring the moment, but even more importantly, meditating on what led us to those achievements helps us prepare for where we plan to go next.

For North Carolina A&T, our aspirations were articulated this year in a bold refresh of the historic strategic plan we began implementing in 2011, not long after I joined the university as chancellor. "A&T Preeminence: Taking the Momentum to 2023" sets exciting new goals around research and development, student success, enrollment, diversity and more.

As the nation's largest historically black university and no. 1 public HBCU, A&T might already rightly be considered to occupy a substantial leadership position. To be sure, we are both grateful for our current reality and excited to pursue the new goals we've set for ourselves in 2019.

To those colleagues who share our mission of serving the educational needs of America's students, conducting critical research that advances the boundaries of science and giving vital service to communities around the nation, please know that we see you and your hard work and wish you the very best of success in the coming year. To those of you who support that work in ways large and small, please know that your assistance is vital to our success. We could not do what we do without you.

May your holidays be peaceful and full of light. And may the new year bring engaging opportunity, rewarding success and plenty of joy.

- Chancellor Harold L. Martin Sr.

A&T graduates enjoy a moment at the year-ending Fall Commencement, where approximately 960 students were awarded their degrees.