A MONTHLY UPDATE ON EDUCATION, RESEARCH AND IMPACT


VOL. 1 / NO. 4 / MARCH 2018



Chancellor's Message
Our Most Important Contribution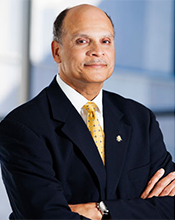 "The hallmark for achieving institutional success lies in the university's commitment to create and expand learning experiences beyond the classroom." That is the introduction of the first goal in A&T Preeminence 2020: Embracing Our Past, Creating Our Future. We wrote that passage in our strategic plan seven years ago. We believed that focusing on enhancing our intellectual climate was job one -- a more pressing and fundamental obligation than any other facing our university. We still do.
Our commitment to expanding learning beyond the classroom, stimulating intellectual exchange, instilling a passion for academic excellence and lifelong learning, and fostering a culture of dynamic student-faculty interaction is stronger than ever before.
What we increasingly appreciate is just how powerful those ideas have become at North Carolina A&T. Our ascent as a land-grant, doctoral university with higher research activity (as recognized by the Carnegie Classification of Institutions of Higher Education) owes much to our focus on the A&T intellectual climate. That focus led us to:
An academic reorganization and ongoing program analysis that resulted in the creation of the College of Science and Technology, the College of Health and Human Sciences and the College of Arts, Humanities and Social Sciences, as well as numerous departmental and programmatic changes. That is all part of a process aimed at creating synergies among similar disciplines, increasing competitiveness of academic programs, supporting collaboration and interdisciplinary research and creating opportunities for new and innovative programming to meet the demands of the global marketplace.
Build support for top scholars. In 2017, we launched the prestigious Cheatham-White Scholarship program, and this spring will announce our first class of scholars, each of whom will enjoy a fully-funded four-year scholarship and additional benefits, such as a study abroad experience. This new initiative will add significantly to the high-achieving students supported by our Dowdy Scholars Program. The 177 applicants who qualified for final review for these programs carried a collective GPA of nearly 4.42, an SAT of 1,339.5 and an ACT of 28.5. In addition to scholar support at the undergraduate level, we created 13 new doctoral and master's fellowship programs, providing hundreds of thousands of dollars for outstanding graduate students.
The launch of two major engagement initiatives, the Chancellor's Town Hall and the Chancellor's Speaker Series–both designed to foster a climate that encourages the creative exchange of ideas of critical importance to the university and the world beyond. Since the series' inceptions in 2017, guests have included Facebook CEO/founder Mark Zuckerberg, former White House senior advisor Valerie Jarrett and, most recently, the lead actors from the Starz! television series, Power, in a dialogue on The Power of Men. A Chancellor's Speaker Series appearance last spring by entrepreneur Daymond John drew more than 50 business plan presentations from students who competed for the opportunity to pitch their ideas to John and campus leadership in a Shark Tank-style environment. We'll conclude both series for 2017-18 next month in an evening with Grammy-, Emmy- and Oscar-winning artist Common and an exploration of "greatness."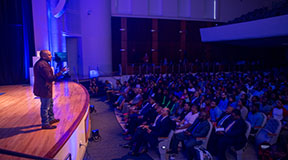 By strengthening our investments in intellectual climate, we have enhanced the university's brand promise – the value that North Carolina A&T holds for our students. More so than our reputation, our students are the primary beneficiaries of those efforts.
We will continue our work there, in service of our student body and in fulfillment of our commitment to preeminence now and for generations to come.
- Chancellor Harold L. Martin Sr.

+ To learn more about North Carolina A&T, please visit iTunes and subscribe to the On Point with Chancellor Harold L. Martin podcast.

Impact
Benefits from a Long-Running Short Course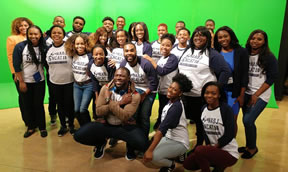 The national impact of the N.C. A&T Department of Journalism and Mass Communication is strongly reflected in its Multimedia Short Course, a program that the department has mounted for 26 consecutive years in collaboration with the National Association of Black Journalists. It is the longest continuously offered NABJ short course in the country.
This year's program drew 30 students chosen from universities in nine states– from California to New York, and many points in between. Those students spent four days in intensive workshops studying under the guidance of news directors, producers, writers, assignment editors and directors from television stations across the country, such as WGCL-TV of Atlanta (CBS), WPXI-News of Pittsburgh (Cox) and WXII-News 12 (Hearst) in Winston-Salem, N.C.
The culminating experience of the Short Course is creation of a 30-minute newscast, using industry standard equipment and software and the skills acquired under the tutelage of industry pros.
"This is such a valuable experience, both for the students and the broadcast journalists who give of their time and knowledge to prepare the next generation of news professionals," said Anzio Williams, vice president of NBC 10 in Philadelphia and a longtime Short Course faculty member, looking out across a room filled with program participants at the opening night reception. "It's a highlight of my year every spring."
The program's alumni now total 830, and include some prominent names and affiliations in broadcast news and communications, such as Joseph Escobar of CBS Affiliate Relations in New York City, Los Angeles-based ABC correspondent Danya Bachhus and former White House senior director of African American Media Addie Whisenant, now based in San Francisco at Bully Pulpit Interactive.
"Our program is the longest running multimedia short course in the country, and we're so proud of the energy and vibrancy it brings to the intellectual climate of our department," said Journalism and Mass Communication Chair Gail B. Wiggins. "We hope to continue offering it for many years to come."


Trendline
Women Rising: Campus Dialogue at A&T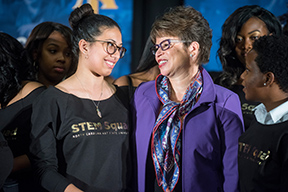 If 2017-18 is remembered for anything, it will surely be the dramatic rise around the country in visibility of women and issues of strong importance to them. That was true at North Carolina A&T, as well, with major campus events featuring such issues drawing large, enthusiastic crowds and sparking equally engaging conversation.
Prominent White House journalist April D. Ryan drew a capacity crowd to the annual February One breakfast. That event commemorates the anniversary of the A&T Four's sit-in at a Woolworth's lunch counter that launched a national civil disobedience movement in 1960. Ryan gave impassioned remarks about the significance of their actions in the larger civil rights movement, and afterward gave away signed copies of her latest book, "At Mama's Knee: Mothers and Race in Black and White."
The focus in November was women in science, technology, mathematics and engineering when Valerie Jarrett, former senior advisor to President Barack Obama, addressed an audience made up largely of female STEM students as part of the Chancellor's Speaker Series. Jarret fielded numerous student questions on the importance of mentoring and personal networks and opportunities in STEM leadership.
Her message resonated at a university that contributes disproportionately to the graduation of women in STEM disciplines, where they remain strongly underrepresented across the nation. A report from the American Association of University Women noted that only 12 percent of engineers are women, for instance, and that the representation of women in computing careers fell from 36 percent in 1990 to 26 percent in 2015.
A Chancellor's Town Hall last September provided perhaps the most vivid example of campus engagement on women's issues. Journalist Lisa Ling, political analyst Angela Rye and actress/author Gabrielle Union held a capacity crowd of more than 900 spellbound for two hours in an intense panel discussion and Q&A moderated by A&T alumnus and journalist Danya Bachhus.
Driving home the connection between the panelists and the largely female audience, Ling, Rye and Union remained on stage for more than an hour after the Q&A, patiently taking individual selfies and engaging with hundreds of women.


Lab Report
Representation: Diversity in the Professoriate


N.C. A&T's efforts to enhance intellectual climate sometimes don't stop at its own borders. College of Science and Technology Associate Dean Clay S. Gloster is leading a research initiative aimed at readying more racial and ethnic minority faculty not just for A&T, but for engineering schools and STEM programs across the country.
Funded through a $300,000 grant from the National Science Foundation, Gloster's initiative, "Preparing Future Minority Faculty for the Professoriate," launched in 2017. The three-year project is developing a "networked improvement community" to create purposeful, collective action necessary to address what he describes as a "disproportionately small number of faculty … from underrepresented groups who hold positions in U.S. colleges and universities, particularly in fields related to science, technology, engineering and math."
"It is critically important for us to increase the number of minority faculty members and accordingly the diversity of role models for students, as this significantly increases students' chances for success in STEM fields," said Gloster. "With this in mind, this project aims not only to increase the pool of minority tenure-track faculty members at HBCUs and MSIs, but at majority institutions, as well."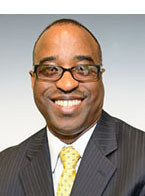 The project centers on increasing the capability of grad students and post-doctoral research fellows to move into tenure-track faculty positions. Gloster is developing strategies, training materials and a structured mentoring program, with particular emphasis on development of student portfolios in teaching, research and service, well in advance of the beginning of students' academic careers.
While Gloster and N.C. A&T will lead the project, the networked improvement community will mobilize an alliance of HBCUs and minority-serving institutions, researchers, practitioners, industry partners, community stakeholders, school districts and mentoring organizations.
Gloster's ultimate goals are to create an evidence-based and comprehensive professional development model, train grad students in skills necessary to effectively navigate the graduate and post-doc training process and create activities that complement existing efforts to increase representation in the professoriate


Data Points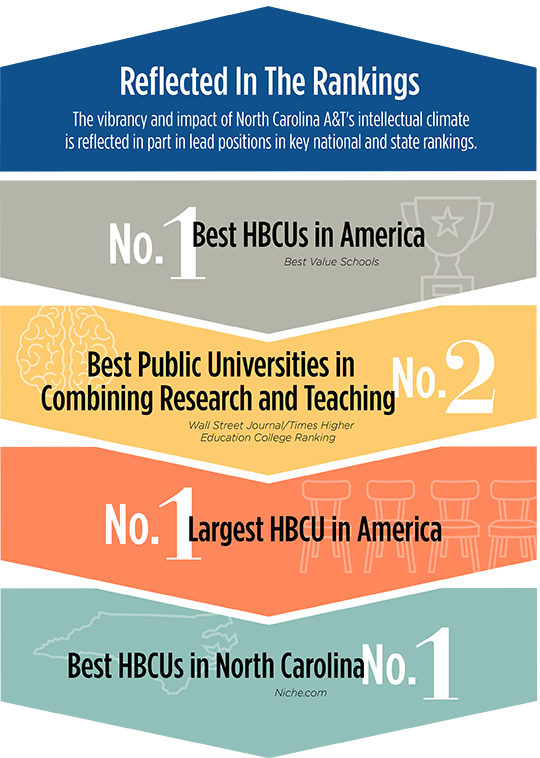 CHANCELLOR
Dr. Harold L. Martin Sr.

CHIEF OF STAFF
Nicole Pride



ASSOCIATE VICE CHANCELLOR
Todd Hurst Simmons

EDITOR
Sandra M. Brown

PRODUCTION
Yvonne L. Halley



North Carolina Agricultural and Technical State University is a land-grant university that is ranked by the Carnegie Classification of Institutions of Higher Education as a Doctoral University: Higher Research Activity.

N.C. A&T does not discriminate against any person on the basis of age, color, disability, gender identity, genetic information, national origin, race, religion, sex, sexual orientation, veteran status, or any other basis protected by law. For inquiries regarding non-discrimination policies, contact the Title IX Coordinator at titleixcoordinator@ncat.edu.

N.C. A&T is an AA/EEO employer, and it is an ADA compliant institution; thus, facilities are designed to provide accessibility to individuals with physical disabilities.