A MONTHLY UPDATE ON EDUCATION, RESEARCH AND IMPACT


VOL. 1 / NO. 5 / APRIL 2018



Chancellor's Message
At A&T, the 'A' Also Represents the Arts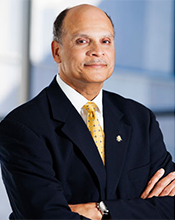 North Carolina Agricultural and Technical State University was established as a land-grant institution in the 19th century primarily to serve our state's farming and industrial economies. The visual and performing arts and humanities also boast a history at A&T that stretches back to its earliest years and today are as vital a part of our DNA as our acclaimed STEM programs.
Whether staging new productions from award-winning playwrights, creating visual art that commands attention or rendering acclaimed vocal performances, students and faculty soar within our arts programs. As George Bernard Shaw famously said, "You use a glass mirror to see your face; you use works of art to see your soul."
Over the past year, Aggies have won major prizes at the Kennedy Center American College Theatre Festival and National Black Theatre Festival, brought bold exhibitions and performances to our campus and the community and garnered an Academy Award nomination. Those accomplishments emanate from programs that provide outstanding educational opportunities for students.
Today, North Carolina A&T is recognized as one of the top eight campuses in America for undergraduate degrees awarded to African Americans in the visual and performing arts and for master's degrees awarded to African Americans in English, literature and letters. Our public relations program was recently ranked No. 8 in America, alongside similar departments from some of the nation's best-known doctoral research universities.
These disciplines and the talented individuals who teach and study within them bring significant value to the A&T liberal arts experience and to an academic enterprise more often known for its leadership in engineering and the sciences. We are proud to provide them a curtain call in this edition of On Point.
- Chancellor Harold L. Martin Sr.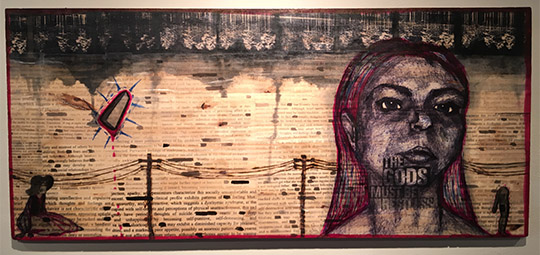 + To learn more about North Carolina A&T, please visit iTunes and subscribe to the On Point with Chancellor Harold L. Martin podcast.

Trendline
New Voices: An A&T Grad In The Vanguard of Hollywood Change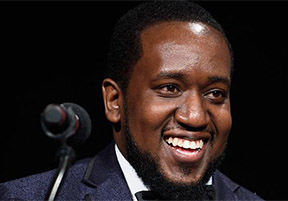 The road to this year's Academy Awards included a path that had its origins at North Carolina A&T. Director Kevin Wilson Jr., a 2011 graduate of the university's Journalism and Mass Communication program, was one of five finalists for Best Live Action Short Film for "My Nephew Emmett," a project that grew from a stage play he wrote as an A&T undergraduate.
The film focuses on the 1955 murder of 14-year-old Emmett Till, who was savagely killed for allegedly whistling at a white woman. The story is told from the perspective of Till's uncle, Mose Wright.
"It's not something that's far removed from what we're dealing with right now," Wilson told CBS News in February. "At the root of it all, it's about someone being killed and no one being held accountable for it, because Emmett's murderers were acquitted for their crimes -- murder, and they weren't tried for the kidnapping. ...Until we reach a point in a way we're valuing those lives when they're cut short violently and there's not a question someone's going to be held accountable, until it's no longer a debate, these stories have to continue being told."
Though he didn't win the Oscar this year – Wilson earned a student Oscar for the film in 2017 -- he received significant national attention in the run-up to the ceremony that brought him in contact with such industry luminaries as Steven Spielberg and Mary J. Blige. For a filmmaker and MFA candidate already being mentored by director Spike Lee in New York University's acclaimed Tisch Graduate Film Program, signs increasingly point to a bright future in Hollywood.
He has directed, produced, written or edited four short films since 2012, and in addition to his Oscar recognition, Wilson won prizes at the Woodstock, Martha's Vineyard African American and HollyShorts film festivals for "My Nephew Emmett."
Wilson, who plans to begin work on a feature film this summer, is already taking care to reach back to other aspiring filmmakers. Before the Academy Awards ceremony last month, he led a private screening of "My Nephew Emmett" for A&T Journalism and Mass Communication students followed by a Q&A that Wilson took part in via videoconference. Wilson stressed the importance of his Aggie roots in a conversation with A&T's Alumni Times in February. Former Miss A&T TaNisha Fordham (2009) and Mr. A&T Austin James (2011) were co-producers on the film, and like others at A&T, have been supportive of his work from the start.
"I am extremely grateful for the support I received to produce this film because a majority of the donors were Aggies who lived in Greensboro," said Wilson. "It really showed me the true meaning of Aggie Pride and the importance of supporting our own."

+Click here to watch the trailer for "My Nephew Emmett."

These 3 Things
For More than 100 Years, Lifting Every Voice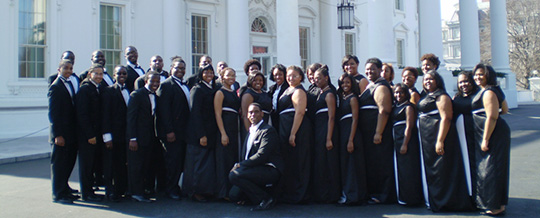 Music has been a mainstay at A&T since the dawn of the 20th century. The university's first music director was hired in 1909 – just 18 years after A&T was established -- and the band program was launched in 1918, making this its centennial year.

Thirteen outstanding music groups dot the A&T campus today, from the Symphonic Band to the Jazz Ensemble, but these three consistently stand out as not only accomplished performance groups, but crowd favorites.

The University Choir. Presenting a wide range of musical material, the singers who comprise this elegant ensemble have performed throughout the Eastern United States and at the White House, to consistent acclaim, under the direction of Maestro Travis Alexander. At home, the choir has performed with the Greensboro Symphony Orchestra and the Greensboro Opera Company and in some of North Carolina's most noted classical music venues.


The A&T Fellowship Gospel Choir. This powerful, award-winning group represents the gospel music tradition with a sound that must be heard to be fully appreciated. A favorite at university gatherings such as annual Student Honors Convocation and Martin Luther King Jr. celebrations, it also participates in and frequently wins choral competitions around the country under the leadership of director Ronald Jones.


The Blue & Gold Marching Machine. Anyone who has been to an A&T football game can attest that the University Marching Band is second to none in musicianship and show-stopping performance style. Led by director of bands Kenneth Ruff, Ed.D., it is the most recognized collegiate bands in North Carolina and one of the top-ranked band programs in the nation. It is also highly competitive, open to qualified students only through a rigorous audition process.


Impact
Aggie Actors, Center Stage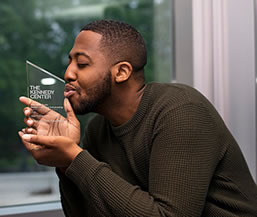 When the performances were complete and the judges tallied their scores at last year's Kennedy Center American College Theater Festival in Washington, a remarkable thing happened: A pair of North Carolina A&T students won a total of five top awards, including the Irene Ryan National Acting Scholarship – the most prestigious of the national competition's prizes.
Even more remarkably, the student who took that top honor, Ashton J. Ross, was a former agriculture major who only months before had taken the advice of faculty and switched to theater. He chose excerpts from two black contemporary playwrights and a scene from Shakespeare's Othello for his performances, noting that only one other student chose work from a black writer.
"I say this to encourage budding playwrights, screenwriters and novelists of color to continue writing and telling stories that are unique to us," said Ross, who also won the National Partners of the American Theatre Classical Acting Award, and with it, a three-week residency at the Shaw Festival in Ontario.
His acting partner, J'laney Jenkins, earned honors for his supporting role with Ross in the Ryan Competition, second place in the Mark Twain Scholarship for Comic Performance and the Kingley Colton Award for Outstanding Partner. Between them, Jenkins and Ross took home $7,000 in cash prizes.
Ross and Jenkins are representative of a program that is one of only two among historically black colleges and universities that offer a bachelor of fine arts in theater accredited by the National Association of Schools of Theatre. It is ranked by Black Broadway as one of the nation's top five theatre arts programs for African American students.


Lab Report
Acclaimed Collections Shine Light on Africa, the Caribbean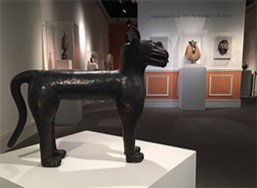 For visitors to the N.C. A&T campus, a stop at the James B. Dudley Memorial Building is a must-do: The iconic statue commemorating the A&T Four and their launch of the national lunch counter sit-in movement in 1960 stands in front of Dudley. But there is just as compelling a reason to walk past the Four and climb Dudley's stately front steps – the University Galleries.
Located on Dudley's main level and open Monday through Friday, the galleries host consistently well-attended student exhibitions each spring. Two of its permanent collections, however, draw visitors year round: The H.C. Taylor Art Collection and the Mattye Reed African Heritage Collection.
The 62-year-old Taylor Collection features work by some of the most acclaimed African American artists of the 20th century – Alma Thomas, Hale Woodruff, Varnette P. Honeywood, Romare Bearden and John Biggers among them – as well as newer artists.
The much larger Reed Collection comprises approximately 4,000 sculptures, masks, textiles, figures, musical instruments and household items. Its artifacts represent more than 35 African countries, as well as others in the Caribbean. It is recognized as the largest repository on the history and culture of African-American life in North Carolina and is a significant tourist attraction for art enthusiasts visiting the Piedmont Triad.
Founded in the 1960s, the collection is named for the galleries' first curator and director, Mattye Reed, who built the collection's core by soliciting donations on behalf of A&T. It continues to grow, with new acquisitions being added each year, according to University Galleries director Roymieco Carter.



Data Points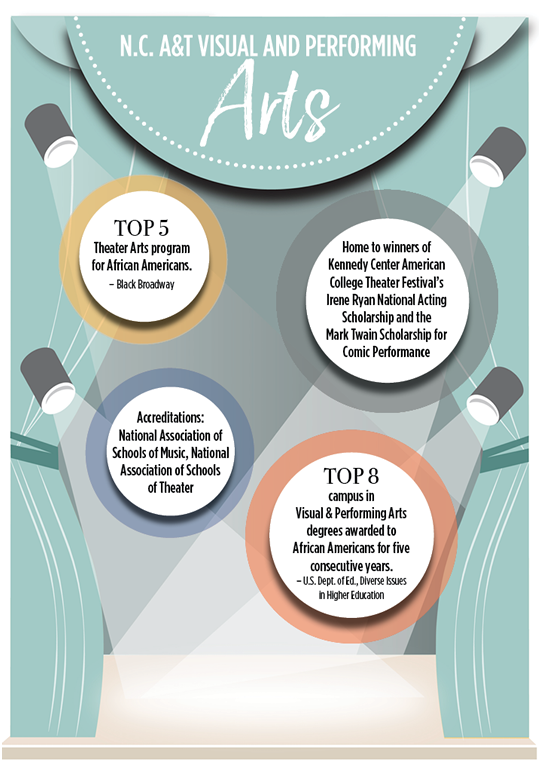 CHANCELLOR
Dr. Harold L. Martin Sr.

CHIEF OF STAFF
Nicole Pride



ASSOCIATE VICE CHANCELLOR
Todd Hurst Simmons

EDITOR
Sandra M. Brown

PRODUCTION
Yvonne L. Halley



North Carolina Agricultural and Technical State University is a land-grant university that is ranked by the Carnegie Classification of Institutions of Higher Education as a Doctoral University: Higher Research Activity.

N.C. A&T does not discriminate against any person on the basis of age, color, disability, gender identity, genetic information, national origin, race, religion, sex, sexual orientation, veteran status, or any other basis protected by law. For inquiries regarding non-discrimination policies, contact the Title IX Coordinator at titleixcoordinator@ncat.edu.

N.C. A&T is an AA/EEO employer, and it is an ADA compliant institution; thus, facilities are designed to provide accessibility to individuals with physical disabilities.