A MONTHLY UPDATE ON EDUCATION, RESEARCH AND IMPACT


VOL. 1 / NO. 9 / SEPTEMBER 2018



Chancellor's Message
Focus on Excellence, Movement in Rankings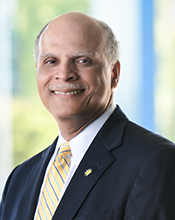 At North Carolina Agricultural and Technical State University, our vision and values call for holding ourselves to the highest standards of performance, for excellence in all disciplines and for a culture of achievement.
I am reminded of those ideals often during the early fall season of higher education rankings. We are enjoying a year of strong performance across several key rankings systems. We are doing so not necessarily because of a focus on those systems, but because of an institution-wide commitment to excellence.
September is of course the month in which U.S. News & World Report's annual "Best Colleges" issue is published. Love them or hate them, these are far and away the most widely referenced college rankings. Because of the outsize importance they've taken on over the years, they are also the most heavily scrutinized and, as a result, the most evolved and refined.
No two rankings system are the same. Each measures its own set of data, often within a theme (best value, most diverse, tops in academic quality, most innovative, etc.). The more credible systems share their methodology in detail, allowing users to understand the advantages and limitations of each approach. Beware systems that don't.
At North Carolina A&T, we follow a range of rankings, for very simple reasons. As a highly competitive doctoral, higher-research activity, public land grant and as a leading historically black university, we are interested in both our standing relative to our peers, as well as trends in standing. Rankings help us better understand our value proposition to our students, to taxpayers who provide significant support to our institution and to our alumni, whose degree value rests in part on decisions we make today.
Our institutional commitment to strategic planning has enabled us to make significant gains in some key rankings over the past seven years. We are now the nation's top-rated public HBCU (U.S. News), the most affordable of North Carolina's best campuses (Money magazine) and one of America's top 200 major national universities (Washington Monthly). We appreciate those listings and others, both for the quality they recognize in N.C. A&T and for the areas important to our mission where their analysis reveals we have room to improve.
Few other industries are as consistently measured, studied and compared as is higher education, but I like it that way. We can't understand how to get where we want to go unless we first fully understand where we are. Through our synthesis of findings from the rankings noted above and a great many others, we are building that foundation of understanding more fully, in service of our students and our university, every day. .
- Chancellor Harold L. Martin Sr.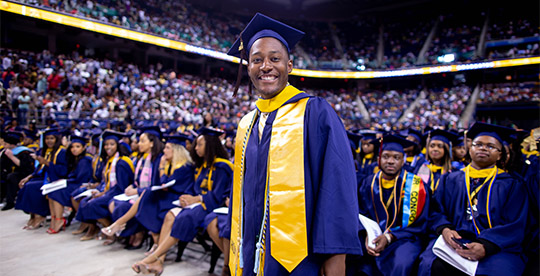 + To learn more about North Carolina A&T, please visit iTunes and subscribe to the On Point with Chancellor Harold L. Martin podcast.

Trendline
U.S. News: How A&T Came Out on Top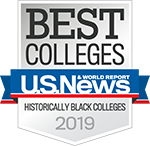 North Carolina A&T grew to become America's largest HBCU in the fall of 2014. This fall, the university added "No. 1 Public HBCU" in the nation to that distinction.
The designation, from U.S. News & World Report's "Best Colleges 2019" edition, is based on numerous measures of academic quality, most notably graduation rate and retention measures and, new in this year's rankings, social mobility. The latter speaks to a university's success in enrolling students from modest backgrounds and graduating them into career paths with strong earnings potential, and it is an area where N.C. A&T is consistently one of the nation's most successful universities.
The U.S. News analysis also involves peer ratings, drawn from campus chancellors, presidents, provosts and other senior leaders, as well as high school counselors. N.C. A&T this year experienced growth in peer ratings, both in the overall rankings this year of 312 "National Universities" and in the 80 campuses included in the HBCU listings.
In the latter, six campuses ranked ahead of N.C. A&T, all of them private institutions. A&T tied with Claflin University, another private campus, in seventh place.
The university is committed to continued growth in the academic quality measures represented in the U.S. News rankings. In areas ranging from student/faculty ratio to performance against predicted graduation rate to the academic profile of incoming freshmen, the data offer insight into the areas of the university that matter and that students ought to take into account when choosing their university home.


Impact
A&T Grads: Employer Interest Surging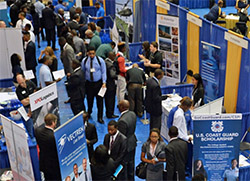 As North Carolina A&T continues to grow in enrollment and graduate production, Aggie alums-to-be are drawing growing interest from employers around the country.
The Fall 2018 Career Fair drew a record 700 representatives from more than 200 employers, including Fortune 500 businesses, government agencies and more. Companies and organizations such as BMW, Oracle, Visa, Rolls Royce, DuPont and the Federal Aviation Administration crowded the arena housing the event. The fair was so oversubscribed, in fact, that organizers hosted the "Career Fair Remix" in late September for an additional 50 employers who could not be accommodated during the first gathering.
Employers are increasingly drawn by N.C. A&T's nationally recognized strengths in science, technology, engineering and mathematics disciplines, particularly in an era in which a national shortage of qualified STEM professionals has created exceptionally heavy demand. A&T's status as the nation's largest and top-rated public HBCU heightens the value of employer participation: They know A&T fairs represent opportunities to increase the diversity and quality of their workforce.
"The extensive growth in the fair and requests directly from employers to be included indicates we are not only succeeding in our goals for the annual event, but A&T is producing highly sought-after students," said Cynthia Downing, interim executive director of career services and experiential learning.
It should come as no surprise, then, that early career alumni from N.C. A&T have been ranked among the top three of the 17-campus University of North Carolina System's top three institutions over the past two years by Money magazine, averaging approximately $50,000 in annual earnings. The rankings are based on data and analysis from the nationally recognized compensation intelligence firm, PayScale.
The next fair is set for Feb. 21, 9 a.m. to 2 p.m. For more information, visit Career Services.


These Three Things
Delivering Graduate Education to AT&T Employees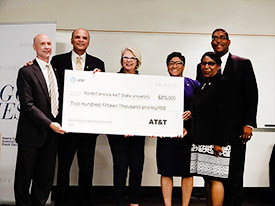 More than 250,000 employees globally work for the telecommunications giant AT&T. For online graduate education in three strategically important disciplines, those employees now have one prominent partner, thanks to a new agreement finalized over the summer: North Carolina A&T.
Leaders of AT&T, the university and the University of North Carolina System gathered at N.C. A&T in September to announce the accord, which covers master's programs in Business Administration, Information Technology and Technology Management. Though the agreement wasn't completed until June, 26 AT&T employees were able to apply, be accepted and begin their studies this fall.
"N.C. A&T's program is a great fit for our culture of continuous learning," said Scott S. Smith, chief human resources officer, AT&T Communications. "Outstanding relationships like this one help us deliver training to our global workforce, and help our employees continue to develop their skills to ensure they're equipped for the jobs of the future."
The agreement is part of "Workforce 2020," a major, company-wide education initiative for AT&T, which Fortune Magazine last year said "may be the most ambitious retraining program in corporate American history." It signals a recognition that AT&T leaders understand ongoing, lifelong education will be a key to success in the 21st century economy and that N.C. A&T is a worthy partner to help meet those needs.
"I'm excited that N.C. A&T is joining universities like Georgia Tech, Notre Dame, and the University of Oklahoma in this initiative," said Venessa Harrison, president of AT&T North Carolina. "And I'm proud that educational resources found here in North Carolina will be making a difference in the lives and careers of my AT&T colleagues around the globe."
As part of the announcement, AT&T also presented a $215,000 donation to the university in support of the Cheatham-White Scholars program, a scholarship initiative for exceptional students. The first class of Cheatham-White Scholars enrolled at A&T this fall.


Data Points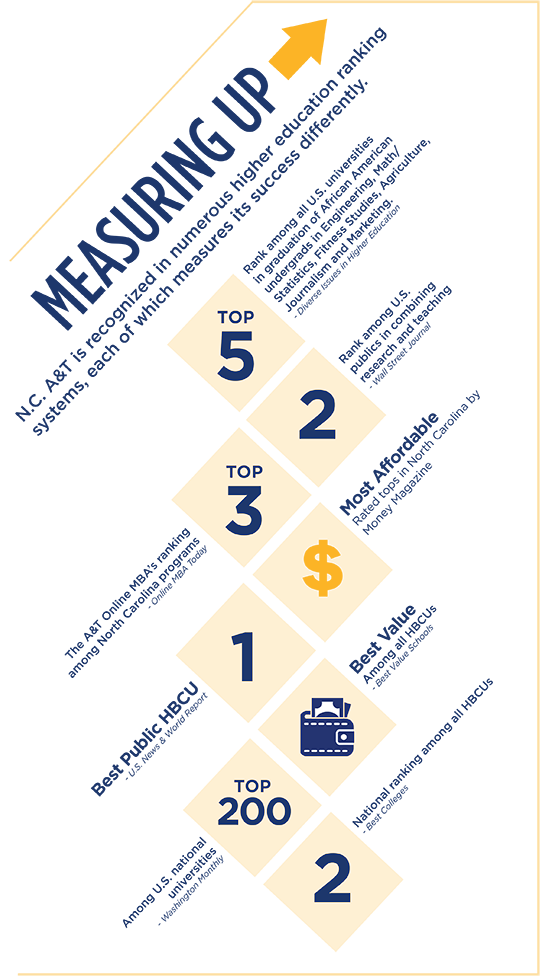 CHANCELLOR
Dr. Harold L. Martin Sr.

CHIEF OF STAFF
Erin Hill Hart, Interim


ASSOCIATE VICE CHANCELLOR
Todd Hurst Simmons




WEB MANAGER
Yvonne L. Halley



North Carolina Agricultural and Technical State University is a land-grant university that is ranked by the Carnegie Classification of Institutions of Higher Education as a Doctoral University: Higher Research Activity.

N.C. A&T does not discriminate against any person on the basis of age, color, disability, gender identity, genetic information, national origin, race, religion, sex, sexual orientation, veteran status, or any other basis protected by law. For inquiries regarding non-discrimination policies, contact the Title IX Coordinator at titleixcoordinator@ncat.edu.

N.C. A&T is an AA/EEO employer, and it is an ADA compliant institution; thus, facilities are designed to provide accessibility to individuals with physical disabilities.