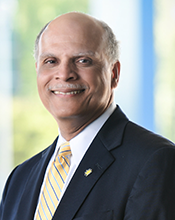 A quiet revolution is underway on college campuses, particularly at land-grant, high-research activity institutions like North Carolina Agricultural and Technical State University.
At issue is the "linear model" – the scientific framework in which basic research is followed by applied research and then technology development.
A longstanding essential idea in discussions of academic and research funding and policy, it has been increasingly challenged in recent years by what is described in shorthand as the "twin-win" strategy: the idea that a combination of basic and applied science can lead simultaneously to validation of theory and development of a proven solution that can be widely shared. And that it can do so far more quickly and efficiently than the linear model.

Land-grant institutions -- for generations, the champions of applied research with practical implications for real-world challenges -- are well positioned to benefit from this changing emphasis in how we frame and fund research. The Association of Public and Land Grant Universities (APLU) is rallying support through what is becoming known as its "Public Impact-Focused Research" (PIFR) initiative.

The APLU is hardly alone. The National Academies of Science, Engineering and Medicine, for instance, is exploring and promoting this approach through member engagement, workshops and discussions accentuating the potential and promise of twin-win partnerships for discovery and innovation.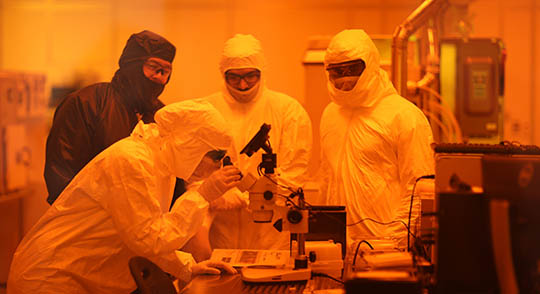 Researchers collaborate at the Joint School of Nanoscience and Nanoengineering.
As both a land-grant institution and one of the UNC System's top three research universities, N.C. A&T has been moving in this direction for several years. The 2008 creation of the Joint School of Nanoscience and Nanoengineering, for instance (an academic collaboration between A&T and the University of North Carolina Greensboro), brought the knowledge of mathematical and core science from the nano world into relationship with engineering on a nano scale. The benefits from this approach continue to grow at Gateway Research Park, where the Joint School is housed.
A comprehensive, campus-wide reorganization of A&T's academic enterprise undertaken in 2015-16 spawned three new colleges, among them the College of Science and Technology where faculty and students in the basic sciences collaborate with colleagues in areas such as our six Applied Science and Technology Ph.D. programs.
These are among many areas of our university that will be shaped by this research sea change in coming years. The convergence of basic and applied research as represented in the PIFR Initiative holds significant potential at our institution, throughout higher education and for science in general as we move more intentionally to draw innovation from discovery.

- Chancellor Harold L. Martin Sr.