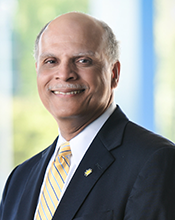 For nearly 130 years, North Carolina A&T has been a beacon of opportunity for undergraduate students.Our university has of course grown over the years to include master's and doctoral programs; even so, our focus on those bachelor's degree-seeking students is stronger today than ever before.
The more than 10,000 undergraduates studying at A&T this year enjoy significantly more choices than their predecessors did in the late 1800s, but our commitment to them is the same: To provide a rigorous education in a supportive campus environment that prepares them well for a lifetime of achievement.
Our measures of progress toward that goal are as diverse as the students enrolled at our doctoral, land grant, high research activity institution. As the nation's largest historically black university for the fifth consecutive year and its no. 1 public HBCU, as designated by U.S. News & World Report, we both embrace the challenge of ensuring the success of all our students and recognize the obstacles many face along the way as they work toward completion of bachelor's degrees.

That's why the first and primary goal of our strategic plan commits A&T to excellence in teaching and student success, with sub goals around innovative pedagogy to enhance learning, focusing on academic programs tied to critical workforce needs and strengthening retention and graduation rates.
As we pursue those ambitions, we continue to be one of America's top 10 producers of African Americans with bachelor's degrees, as well as no. 1 in such disciplines as engineering and agricultural sciences. The latter are reflective of national leadership in critical STEM disciplines that continues to draw attention from major employers across the United States and beyond.
Prospective students and their families get it. That explains why applications to A&T are up an astonishing 32 percent over 2017-18's record total, why we set an aggressive 2023 enrollment goal of 14,000 and why we attract growing numbers of high-achieving students in each entering class.
Far from "growth for growth's sake," this is illustrative of our commitment to expanding opportunity at the undergraduate level to a high-quality, competitive educational experience. I can think of no more appropriate aspiration for our university and for the students, families, community and state that it serves.
- Chancellor Harold L. Martin Sr.