A MONTHLY UPDATE ON EDUCATION, RESEARCH AND IMPACT


VOL. 2 / NO. 4 / april 2019



Chancellor's Message
Intellectual Climate: A&T's Beating Heart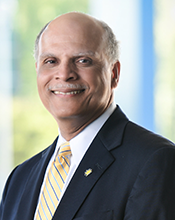 "North Carolina A&T will cultivate an intellectual climate that encourages the creative exchange of ideas and raises the quality of the professional environment."
Those words have been an abiding goal within our university's strategic plan since 2011 and continue to guide us in our recently refreshed plan, "A&T Preeminence: Taking the Momentum to 2023." Why? Because this commitment speaks to one of our most fundamental responsibilities as a university – to provide an environment where critical and creative thinking flourishes. It is therefore a job that is never done, but a goal that requires we reach higher and imagine more boldly every day.
Our strategic focus on this goal not only keeps it front and center, but ensures that our pursuit of it takes us on a rich, ever-changing journey. In recent years, that journey has included such interesting turns as creation of a living-learning community for male students, with academic support and extracurricular programming focused on the life of the mind; a town hall with President Barack Obama exploring race, sports and achievement with A&T students; and a seemingly endless number of student teams practicing and competing with peers nationwide in contests ranging from Jeopardy-style academic tournaments to creation of a self-driving automobile.
Our focus on intellectual climate further recognizes that valuable learning takes place both inside and outside the classroom. The latter can include opportunities to put business education to work in our student-focused Center for Entrepreneurship and Innovation, to create tangible products of imagination in one of our campus Makers Spaces or to join fellow thespians in our award-winning Richard B. Harrison Players theatrical group.
Our degree programs and coursework and the rigor that our faculty infuse into them are undoubtedly the lifeblood of our university. But the intellectual climate is the beating heart, nourishing the body, sustaining the brain and delivering the energy that propels us forward, as individuals and as a community.
We have seen numerous benefits of our commitment to campus climate in recent years and look forward with anticipation for what it will bring in the future and the many ways, big and small, that it will continue to shape the A&T experience.
- Chancellor Harold L. Martin Sr.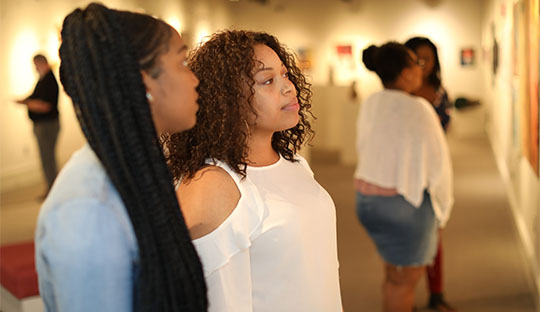 A&T students enjoy an exhibit at the University Galleries, which contribute significantly to the university's vibrant intellectual climate.

+ To learn more about North Carolina A&T, please visit iTunes and subscribe to the On Point with Chancellor Harold L. Martin podcast.

Impact
Two Dynamic Series Thrill, Engage Campus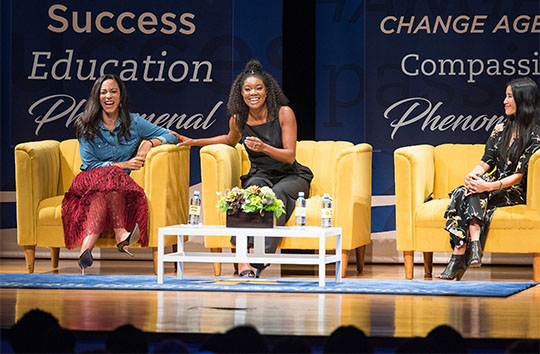 Political analyst Angela Rye, actress Gabrielle Union and journalist Lisa Ling engage with a standing-room only audience in a 2017 Chancellor's Town Hall.
The 2017 launch of the North Carolina A&T Chancellor Town Hall series showcased the university's strategic commitment to a campus climate characterized by the "creative exchange of ideas" with its debut guest speaker: Facebook founder/CEO Mark Zuckerberg, creator of the world's largest social media platform.
With the addition one month later of the Chancellor's Speaker Series and its first guest -- entrepreneur, author and ABC TV "Shark Tank" star Daymond John -- the direction of both series was clear: To bring speakers of national and global recognition who reflect preeminence in their respective fields to A&T to explore big issues -- and sometimes even bigger questions.
Two years later, the Speaker and Town Hall series have brought more than 20 speakers to Greensboro, from former Obama White House Senior Advisor Valerie Jarrett to recording artist/author Common to, most recently, faith leader/author T.D. Jakes. Subjects have ranged from women in STEM professions to maintaining successful relationships to succeeding in business as an entrepreneur.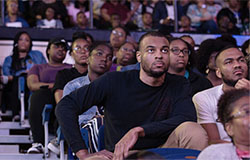 Their campus appearances have been marked not only by capacity crowds, but by opportunities to engage with students in smaller groups. Stage/screen stars Loretta Devine (Dream Girls, numerous other credits), Jasmine Guy (A Different World) and A&T alumnus/Oscar-nominated director Kevin Wilson Jr., for instance, taught master classes in April on strategies for career success in the highly competitive performing arts field to the career importance of building a strong team of colleague supporters.
Daymond John's 2017 speech was accompanied by a student entrepreneur competition that drew more than 50 individuals and teams, the three finalists from which got to pitch their proposals to John, Forbes-recognized alumna/entrepreneur Janice Bryant Howroyd and Chancellor Harold L. Martin Sr. Last year, Speaker Series featured guest Jemele Hill, formerly of ESPN and its iconic Sports Center show, spoke with student journalists on navigating their career plans in a dynamic news media environment.
"We're proud of the quality of speakers we've brought in over the past two years and the way they've been able to serve as catalysts for campus dialogue, not only during their appearances but long after," said Serelyn Green, A&T director of Special Events and Programs. "These series continue to contribute to our campus climate in ways we always find surprising and engaging. The biggest reward is seeing the way that our students turn out and are so invested in the issues our speakers are focusing on."



These Three Things
Dialogue Between Thought Leaders, Students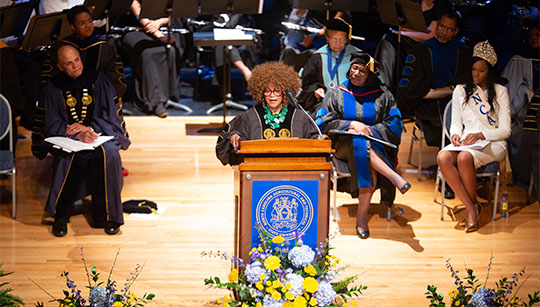 Senior A&T leaders look on as N.C. Poet Laureate Jaki Shelton gets real with high-achieving A&T students.
Invitations to speak at the nation's largest historically black university are inevitably received well by some of the nation's best-known names and most remarkable thinkers. The challenge for A&T organizers is always to create an environment that fosters dialogue between those thought leaders and our students to make each major speaker visit not only memorable, but inclusive of messages and direction that attendees can incorporate into their own lives.
Of the many guest speakers and campus gatherings this year, these three stood out as providing interesting and thought-provoking opportunities for conversation and growth for our students:
February One & Rev. William Barber. The 59th annual celebration of the A&T Four's launch of a national sit-in movement at the downtown Greensboro Woolworth's featured riveting keynote remarks from civil rights leader/faith leader the Rev. William Barber. The recent MacArthur Foundation "genius grant" award recipient tackled voter suppression and racism, and challenged attendees to honor the legacy of the A&T Four by refusing to stand for continuing injustice today.

Student Honors Convocation & N.C. Poet Laureate Jaki Shelton. The annual celebration of student academic accomplishments featured thoughtful comments from the state's first African American poet laureate and only its third woman. Shelton engaged students on the power of story, and the lifelong importance of constructing, releasing and curating one's own story.

Male Empowerment Conference featuring Terrence J. A&T alumnus, Emmy nominee and star of both the big and small screen, Terrence J joined entertainer David Banner and television host Jeff Johnson for a panel discussion and audience Q&A as part of A&T's first Male Empowerment Conference. The trio not only engaged powerfully with A&T students, but with busloads of Morgan State University students in town for a football game against the Aggies, spreading further critical messages on overcoming personal obstacles and working toward success both in school and in life afterward.


Lab Report
Engaged Students Become Engaged Voters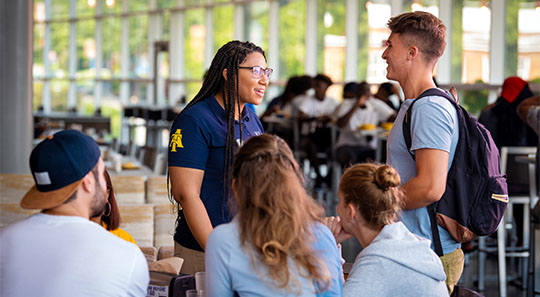 Student Government Association President Delaney Vandergrift and students talk in the run-up to the 2018 midterm elections.
One of the many benefits of a strong campus intellectual climate is the encouragement it provides for students to engage the world around them. Nowhere was that more notable this academic year than in the 2018 mid-term elections.
Student government leaders collaborated for months on a plan to educate students on the importance of voting, as well as issues and candidates they would see on the ballot. They organized shuttles to get student voters to an early voting site and heavily promoted the need for election-day turnout, using social media (with a #RealAggiesVote hashtag), direct messaging and good old-fashioned word of mouth.
When the returns came in, the results were nothing short of remarkable: Turnout at A&T's on-campus precinct was up an astonishing 51 percent over the 2014 mid-terms, and at the off-campus precinct primarily serving A&T students, turnout rose by 29 percent. Student turnout was likely significantly higher, as those two precincts' results don't count non-North Carolina students who voted absentee in their home state or commuter students who cast a ballot elsewhere in the Piedmont Triad.
The strong showing sent several strong messages. For elected officials, it served as proof that the A&T student body – more than 12,000 strong – can be a force at the polls, enough so to make a difference in local and regional races. That encourages those seeking office to take seriously issues that are important to A&T students.
Second, it served as proof just as powerful for the students themselves. With a successful template for engaging and mobilizing for 2018, there is already growing interest in what the students will do in 2020 – a presidential election year when voter interest is typically higher. With the strong performance of 2018 to build upon, the sky's the limit.
Engaged students are students who can make a difference in the world around them. At the end of the day, that's powerful incentive to ensure that the campus climate is one that supports them in leveraging their own personal power to its very best effect.


Final Word
Honoring A Sacred Memory

Longtime social justice advocate, national co-chair of the Poor People's Campaign and the force behind the Moral Monday movement, the Rev. Dr. William J. Barber II served as keynote speaker for the 59th annual February One Sit-In Celebration earlier this year.
Fresh off his international recognition as a MacArthur Genius Grant awardee, he delivered 45 minutes of impassioned remarks that challenged, informed and inspired the event's capacity crowd. For those of you who couldn't be there or those who could but would like to hear it again, we give Rev. Barber this month's Final Word.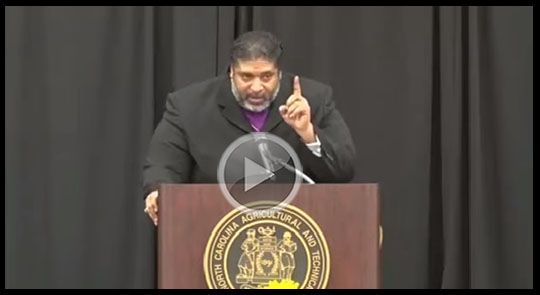 CHANCELLOR
Dr. Harold L. Martin Sr.

CHIEF OF STAFF
Erin Hill Hart, Interim


ASSOCIATE VICE CHANCELLOR
Todd Hurst Simmons




WEB MANAGER
Yvonne L. Halley

STAFF WRITERS
Tonya D. Dixon
Jordan M. Howse


North Carolina Agricultural and Technical State University is a land-grant university that is ranked by the Carnegie Classification of Institutions of Higher Education as a Doctoral University: High Research Activity.

N.C. A&T does not discriminate against any person on the basis of age, color, disability, gender identity, genetic information, national origin, race, religion, sex, sexual orientation, veteran status, or any other basis protected by law. For inquiries regarding non-discrimination policies, contact the Title IX Coordinator at titleixcoordinator@ncat.edu.

N.C. A&T is an AA/EEO employer, and it is an ADA compliant institution; thus, facilities are designed to provide accessibility to individuals with physical disabilities.