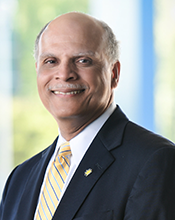 Fifty years ago this month, the North Carolina A&T campus more resembled a battleground than a university.
Protests over racist interference in student body elections at nearby Dudley High School had drawn participation from our student body. When tensions escalated, local authorities responded with force. In short order, state leaders mobilized the National Guard, and within hours, the A&T campus air was thick with teargas and gunfire.
One student was killed and another wounded. The university was closed, students were sent home and commencement exercises were cancelled. The shocking episode was described at the time as the biggest armed assault ever made against a U.S. university.
We had the chance to give the Class of 1969 a proper graduation celebration earlier this month as part of the university's Spring 2019 Commencement. Marking the 50th anniversary of their graduation, 112 members of the class donned golden regalia and joined this year's graduates to process into the Greensboro Coliseum before nearly 13,000 attendees.
We were not the only ones to remember and venerate those A&T alumni or to use the milestone occasion as an opportunity to reflect on the events of 50 years ago. Journalists at  The Atlantic, Teen Vogue and the Greensboro News & Record published ambitious news features on what has become known over the years as the Greensboro Uprising or the A&T/Dudley Revolt.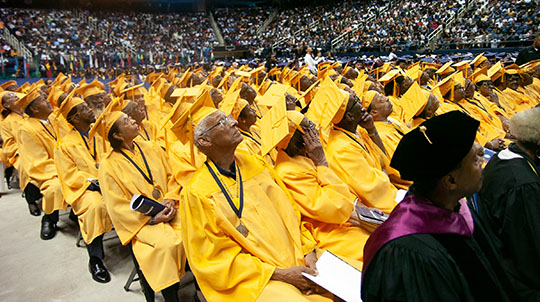 Members of the Class of 1969 watch a video at commencement documenting the events of 50 years ago.
As both chancellor of A&T and someone who began his undergraduate studies at the university the year after the Class of 1969's tragic final days on campus, it was my honor to recognize these alumni during commencement.
Watching the standing ovation given to these graduates by the parents, family members, faculty, staff, alumni and students – many of whom heard their story for the first time at our commencement – made for a moment that no one in the coliseum will ever forget. As the graduates rose and acknowledged the cheers, it was gratifying to see the healing and restoration of spirit that took place in front of us all, as their historic moment was acknowledged and publicly celebrated.
The stories of A&T are rich and diverse. They include both challenging times and moments of triumph. The Class of 1969 is illustrative of both, as well as the abiding truth that for 128 years, we have consistently risen to the occasion, overcome obstacles and shown a dogged commitment to our values that is perhaps the defining characteristic of our university.
That's what Aggies Do. 
- Chancellor Harold L. Martin Sr.