A MONTHLY UPDATE ON EDUCATION, RESEARCH AND IMPACT


VOL. 2 / NO. 6 / SUMMER, 2019



Chancellor's Message
Planning for Success in the Coming Year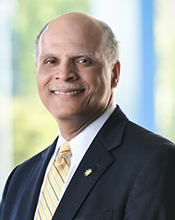 Summer is a season of preparation for us at North Carolina Agricultural and Technical State University – from standing-room-only new student orientation sessions to helping students secure housing to endless retreats and programs designed to help students, faculty and staff succeed in the coming year. Through it all runs a common understanding: The work we do now makes possible our continued achievement toward strategic goals and our further ascent toward national preeminence.
As the nation's largest historically black university (HBCU), we continue to experience growth in student interest, applications and admissions. And we continue to plan and set strategy to keep up with the expanding demand, adding student housing, building new academic and student-oriented facilities and otherwise preparing not just to serve the needs of today, but the demands that tomorrow will surely bring.
I am often asked how we account for our success at A&T, how we have grown without sacrificing quality (we are the top-ranked public HBCU in America, according to U.S. News & World Report). Quite honestly, we owe our direction and trajectory both to the relentless execution of a strategic plan and a shared commitment to excellence. That doesn't necessarily mean we are excellent today, by the way, but that excellence is our North Star for every degree program, every student service and every opportunity to enhance our university.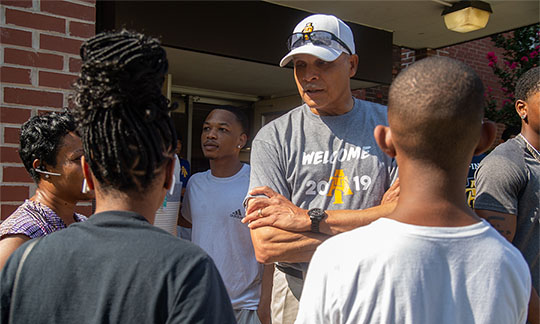 Chancellor Martin speaks with new students and parents on Move-In Day, just prior to the start of the fall term.
Excellence, in fact, is one of five core values that form the foundation for our work, along with responsibility, integrity, inclusiveness and learning. To ensure that those values are front and center in our work across the university, we have introduced the Values Project this fall, which is presenting those ideals and what they represent in diverse, highly visible ways across campus, from video displays to framed posters in leadership offices and conference rooms to desktop images on computer lab machines in every academic building. For our work to have impact and significance, those values must be present throughout everything we undertake.
To the students joining us for the first time this fall, to the returning students preparing to take important steps further toward graduation, to the faculty and staff who will teach and guide them along the way and to the family, friends and alumni of A&T who will be rooting them on, I make this promise: A&T is better today than yesterday, but never as good as we will be tomorrow.
- Chancellor Harold L. Martin Sr.

+ To learn more about North Carolina A&T, please visit iTunes and subscribe to the On Point with Chancellor Harold L. Martin podcast.

Trendline
High-Achieving Scholars Lead A&T's Ascent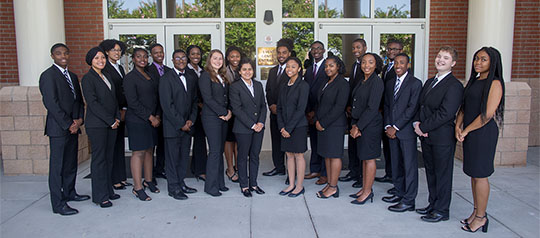 Members of the inaugural class of Cheatham-White Scholars.
With the beginning of the 2019-20 school year, North Carolina A&T is experiencing continued growth in undergraduate academic profile, led by exceptional students in two major programs: The Cheatham-White Scholars and the Dowdy Scholars.
The Cheatham-White program was created by the State of North Carolina in 2017 for exceptional students at North Carolina A&T and fellow UNC System campus North Carolina Central University. The highly competitive, full-ride scholarship not only covers tuition, room and board, but study-abroad opportunities, a laptop computer, books and more.
A&T's debut class of 20 Cheatham-White scholars enrolled last year with an average GPA of 4.51, SAT score of 1,364 and ACT score of 30.
The university expanded the program this year, enrolling an additional 25 students. Because the program isn't restricted to North Carolinians, the scholars cumulatively include students from Florida, Georgia, Kansas, Maryland, Michigan, South Carolina, Tennessee, Texas and Virginia.
Named for the late Dr. Lewis C. Dowdy, A&T's sixth president and first chancellor, who served the university for more than 21 years, the Dowdy Scholars Program attracts high-achieving students who receive four-year tuition, fees and housing scholarships. While this year's class of 24 scholars mostly comes from North Carolina, it also attracts students from as far away as California and Texas.
Campus leaders note that both programs draw students who could enroll at virtually any university in America. Those students contribute to an academic profile of A&T entering classes that has risen over the past decade from 3.02 to 3.61.
"We have high expectations that these scholars take their places alongside their academically motivated peers and utilize the tools and opportunities afforded to them to meet the challenges that await them," said Provost and Executive Vice Chancellor for Academic Affairs, Beryl McEwen.


Lab Report
(Self) Driving Into the Lead: Aggies Innovate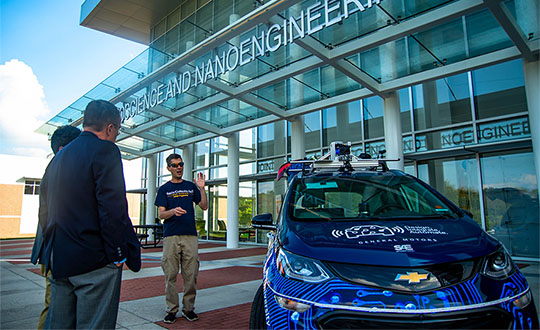 Brightly colored Chevrolet Volt rolled to a second-round, first-place win in Round 2 of the Auto-Drive Challenge.
In the second of an invitation-only, three-year North America competition to turn a garden variety Chevrolet Volt into a self-driving innovation, North Carolina A&T's team finished first in the country and second overall, besting such big-brand names as Virginia Tech and Texas A&M.
Sponsored by General Motors and the Society of Automotive Engineers International, the contest has focused new attention on pushing the limits of cars that can drive themselves. A&T Engineering Dean Robin Coger has called the effort to create a self-driving vehicle "inspiring" and said it is great to be "at the forefront of developing advanced technologies for future transportations systems."
Moving beyond the primary goals of the first year of the autonomous driving competition, the second year targets focused on enhanced autonomy levels of the self-driving cars by avoiding dynamic obstacles and safely passing through intersections, challenging road conditions and multiple lane changing.
The competition's technical goal is navigating an urban driving course in an automated driving mode as described by SAE Standard (J3016) Level 4 definition by the third year of the challenge.


Impact
Town-and-Gown Debuts to Rave Reviews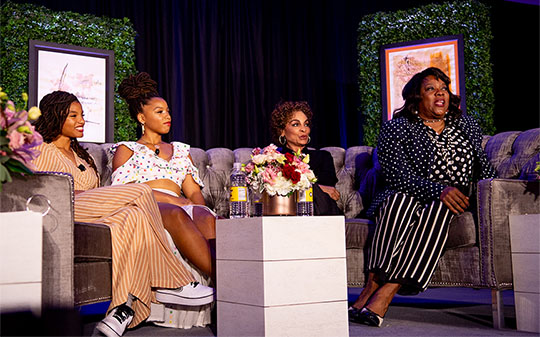 Actresses Chloe X Halley, Jasmine Guy and Loretta Davis thrill a standing-room-only crowd at a Chancellor's Town Hall event that opened the two-day Town and Gown celebration.
North Carolina A&T's contributions to the success of the state's Piedmont-Triad region are enormous. So when university leaders sought to create a major town-gown happening this past spring, there was no doubt it would be big.
The two-day affair featured a panel discussion with three generations of women stars moderated by A&T alumnus and Oscar nominee Kevin Wilson, an exquisite dinner featuring performances by the legendary A&T choir and a staging of "Ain't Misbehavin' " so rousing, composer Fats Waller was likely beaming with pride in the afterlife.
Focused on building stronger relationships between the nation's largest historically black university and leaders of the city it calls home, the events brought hundreds of guests to the A&T campus, many of whom had never visited before, and acquainted them with many of the dimensions of A&T that make it so special, from strengths in the performing arts to its historic leadership in the civil rights movement. On the second night, for instance, guests dined just feet from an iconic campus memorial to the A&T Four, who in 1960 launched a national sit-in movement to desegregate lunch counters across the country.
Featured guests for "Artistic Evolution," the panel discussion that launched the town-gown celebration, included actor/director Jasmine Guy, best known as Whitley Gilbert from 1990s "Cosby Show" spinoff, "A Different World;" Loretta Davis, who has starred over 30 years in film, TV and on stage in projects ranging from the Broadway hit "Dream Girls" to "Grey's Anatomy;" and Chloe x Halle, the sister duo who parlayed a major YouTube following into starring roles on the college-themed "Black-ish" spinoff hit "Grown-ish."
In addition to the panel discussion, Guy, Davis and Wilson thrilled visual and performing arts majors with master classes that allowed them to share wisdom from their decades of high-profile work with students eager to perform and hear their feedback. Planning is already underway for the second-annual town-and-gown next year, which faces the daunting challenge of topping the debut event.



Data Points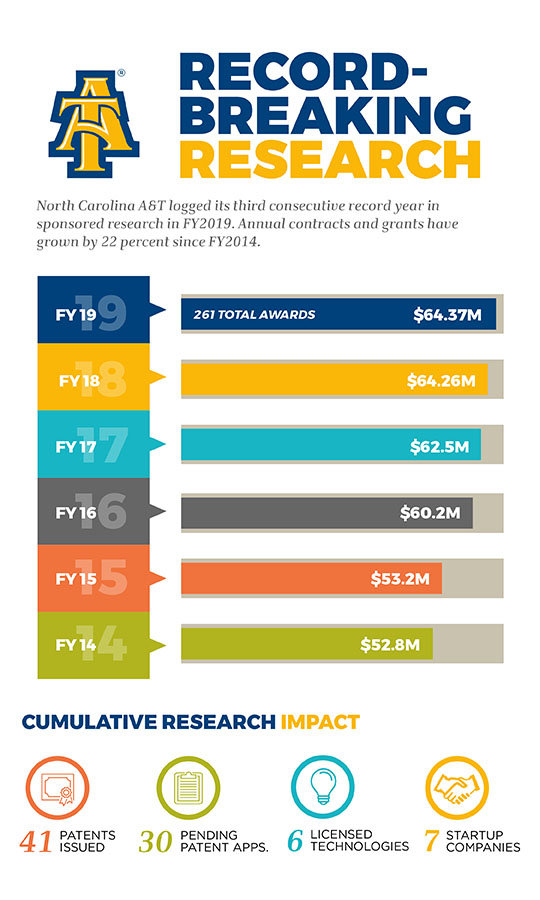 CHANCELLOR
Dr. Harold L. Martin Sr.

CHIEF OF STAFF
Erin Hill Hart


ASSOCIATE VICE CHANCELLOR
Todd Hurst Simmons




WEB MANAGER
Yvonne L. Halley

STAFF WRITERS
Tonya D. Dixon
Jordan M. Howse


North Carolina Agricultural and Technical State University is a land-grant university that is ranked by the Carnegie Classification of Institutions of Higher Education as a Doctoral University: High Research Activity.

N.C. A&T does not discriminate against any person on the basis of age, color, disability, gender identity, genetic information, national origin, race, religion, sex, sexual orientation, veteran status, or any other basis protected by law. For inquiries regarding non-discrimination policies, contact the Title IX Coordinator at titleixcoordinator@ncat.edu.

N.C. A&T is an AA/EEO employer, and it is an ADA compliant institution; thus, facilities are designed to provide accessibility to individuals with physical disabilities.