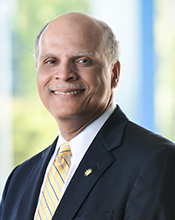 Tens of thousands of North Carolina A&T alumni and supporters were on our campus last week for what has become widely and affectionately known as the Greatest Homecoming on Earth. It's a major annual reminder of the depth and breadth of Aggie Nation's affinity for this university, but it also points to another important dynamic: the impact of A&T graduates in North Carolina and beyond.
Dating back to 1899, our university has produced more than 70,000 alumni. As a land-grant institution since our establishment, we have provided educational opportunity for many students who were the first in their families to attend college and in many cases who were barred by discriminatory admissions policies from applying to other universities.
As both a beacon of opportunity and a campus known for its educational quality and impact in STEM disciplines, A&T's appeal has grown significantly in recent years. We have been America's largest historically black university since 2014, and the ever-increasing size of our student body means more graduates to meet workplace needs.
Today, we see those alumni having major impact in a variety of fields. A&T produces more African American engineers and agricultural science bachelors graduates and more math/statistics masters earners than any university in America. We are among the top five in a range of other disciplines, from journalism/mass communications to family/consumer science.
In a nation starving for STEM workers, our graduates increasingly are sought out by companies in Silicon Valley and other technology centers by the hundreds of companies that flock to A&T career fairs each year. Our graduates are unfailingly well prepared to have an immediate impact in those businesses and organizations, and in many cases, they bring diversity to workplaces in need of breaking the homogeneity of their employee ranks.
We saw plenty of those graduates and their peers at A&T last week, attending college reunions, marveling at changes as they walked the campus and rooting for the Aggies as they won Saturday's big game. They brought to mind a finding from a Gallup survey of UNC System alumni released earlier this year: N.C. A&T alums had the highest marks in the system for affinity for their alma mater. In fact, 96 percent said they'd return to A&T to earn their degree again, if given the chance. We saw endless evidence of this quantification of Aggie Pride throughout the week in the form of alumni who attended homecoming with children, grandchildren, mentees and friends, giving them an expert's viewpoint on what this special place might hold for them.
We deeply appreciate their advocacy for our university. Just as importantly, we appreciate the value they provide as as living inspirations for our 12,556 current students, modeling what a degree from A&T means and just how far it can take you.
- Chancellor Harold L. Martin Sr.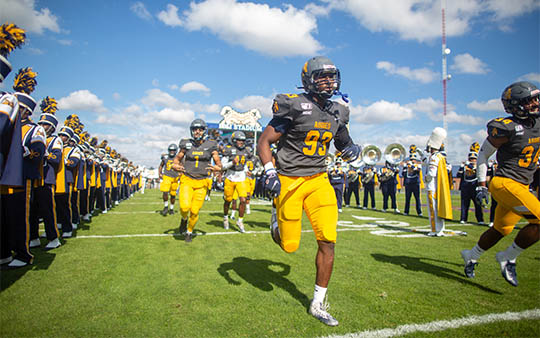 The Aggies take the field in what would be a blowout, 64-6 win over Howard University.