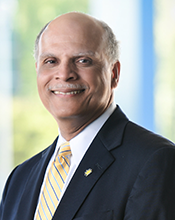 One of the most rewarding aspects of my job is the opportunity it affords me to share the remarkable story of North Carolina A&T, particularly our transformation over the past 10 years.
February brought one of those opportunities to me in the form of a keynote speech at a higher education marketing conference, where colleagues from across the country assembled to learn about A&T, how we've done what we've done and what lies ahead.
As I shared with them, the fruits of our recent labors can be traced back to 2009 and a simple question I posed to our faculty, staff and students upon being selected as chancellor: Are you ready to compete? Their emphatic and positive response to that question was the essential predicate for a long and ongoing series of strategic changes that have made us the largest historically black university in America, its top ranked public HBCU and a national leader in STEM education.
One of the critical components of turning around a university with declining enrollment and uncertain finances was aggressively focusing on our position in the marketplace and changing the way we communicated about the A&T brand. Gone are the days when alumni and constituents complained that we were a "hidden jewel" or a "best-kept secret." They've been replaced by record-setting applications, ever-climbing record enrollment, dramatic growth in our academic profile, ascent in a wide range of rankings and brand affinity among our alumni that Gallup showed leads all University of North Carolina System campuses.
None of that, of course, was an accident. Every step in the past decade's journey was guided by our disciplined, relentless implementation of strategic planning.
The audience of marketing professionals at that recent conference appreciated the message and the evidence of intentionality behind it. Numerous attendees wanted to learn more about the planning and commitment to excellence that is often referred to at A&T as our "secret sauce."
We are nowhere near done. There are always areas where we can and must improve, where we can enhance the compelling brand proposition that we offer to prospective students, to donors and federal funders. Every member of A&T's leadership team knows that we are committed to being better than we were yesterday, but never as good as tomorrow.
It's a great story to share. But it's an even better reality to lead, to contribute to and to watch unfold in real time, day after rewarding day, particularly when we know that the best is yet to come.
- Chancellor Harold L. Martin Sr.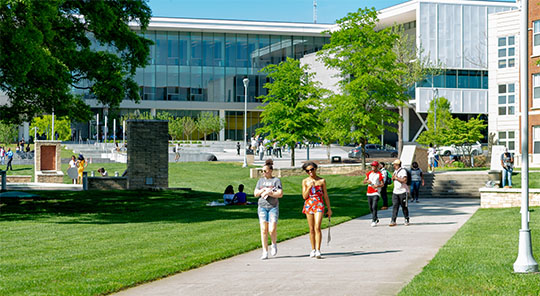 Students cross the campus quad on a bright spring day.