A MONTHLY UPDATE ON EDUCATION, RESEARCH AND IMPACT


VOL. 3 / NO. 5/ MAY 2020



Chancellor's Message
A Very Different Decision Day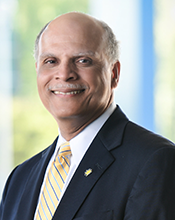 May 1 -- or Decision Day as we in academia know it -- arrived uncharacteristically this spring, with high school seniors across the country declaring their intention to attend colleges and universities that by and large were as silent as museums, our students having been sent home and our classes being conducted entirely online.
At North Carolina A&T, we were gratified to experience an enrollment cycle that has prepared us to build on the solid foundation for growth laid over the past decade. That included a 16 percent spike in undergraduate applications (coming on the heels of last year's 30 percent jump), as well as applications for masters and doctoral programs that ticked upward.
Those increases promise to push us not only closer to our 2023 target enrollment of 14,000 – we were at 12,556 in 2019-20 – but to do so while we continue to improve the academic profile of our student body and our impact as the nation's leading producer of African American STEM graduates.
Even so, we cannot lose sight of the fact that as we were completing that cycle, we were unable to hold an in-person commencement ceremony, due to the ongoing spread of the coronavirus. Like peers across the country, we are working intensely on preparations for the fall term, not knowing precisely what it will bring. Certainly, study after study has shown that students are eager to return to on-campus instruction. But COVID-19 fears are also sure to keep some from leaving the safety of their home environments.
We are planning for the health and wellbeing of all students, and making sure we can deliver instruction in sanitized classrooms where social distancing is practiced and online experiences that are rich, meaningful and effective. For academia, the silver lining of the dark cloud that has hung over our campuses these past three months is that many more faculty are adept now at delivering coursework online and will continue to bring innovation and creativity to the challenge of remote learning.
We will meet students where they are, and provide an educational experience that reaches and exceeds the high standards we have set for North Carolina A&T. It may not look exactly as it did last fall, but our goal is to have that experience meet the expectations that have driven our impact and significant growth in applications, and that our continuing students have come to know and love.
- Chancellor Harold L. Martin Sr.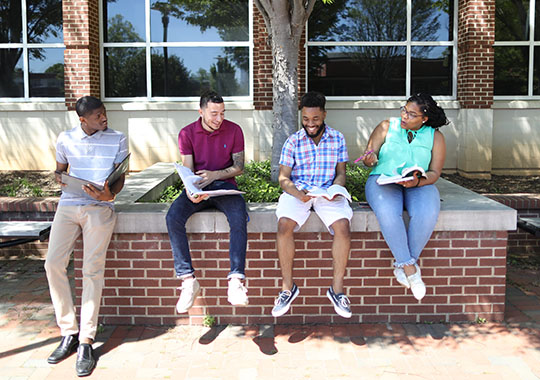 Students are eager to return to campus, and preparations are underway to ready a safe environment.

+ To learn more about North Carolina A&T, please visit iTunes and subscribe to the On Point with Chancellor Harold L. Martin podcast.

Impact
Supporting the Next Generation of STEM Graduates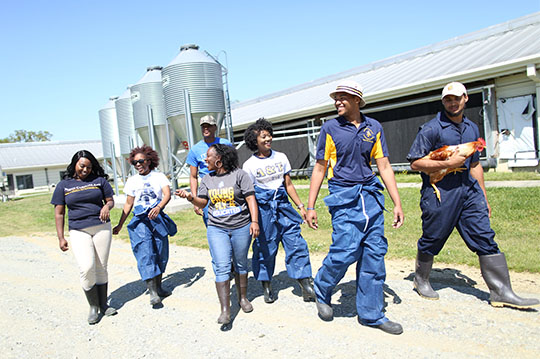 Agricultural and food science students, as well as students who plan to study chemistry, physics, mathematics or electronics technology, will benefit from the scholarship funding.

North Carolina A&T's continued commitment to educating tomorrow's leaders in science, technology, engineering and mathematics disciplines was spotlighted at the end of the Spring 2020 semester with the award of nearly $1 million in federal and private scholarship funds to incoming Sci/Tech Scholars and top students in undergraduate food and agricultural sciences scholarships.
The scholarships will cover first-year tuition and expenses for a total of at least 51 students.
In the College of Science and Technology, 26 incoming SciTech Scholars will be part of a two-year renewable merit- and need-based scholarship program for high school seniors who plan to study chemistry, physics, mathematics or electronics technology. The awards are made possible by private support.
In the College of Agriculture and Environmental Sciences, at least 21 in-state students and five out-of-state students will benefit from the funding, which comes from a four-year, $2.25-million grant from the 1890 Scholarships Program, a project of the U.S. Department of Agriculture's National Institute of Food and Agriculture. Scholars receive full tuition, books and software, room and board for up to four years, mentoring and opportunities for experiential learning and professional development.
Authorized by the 2018 Farm Bill, the highly competitive 1890 Scholarships Program is designed to promote rural prosperity and economic development by developing a highly skilled workforce.



These Three Things
Top Scholars, High Achievers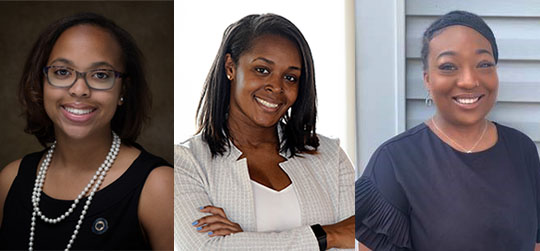 From leftt: Alison Gilmore, Brenda Caldwell and Najawa Huntley
When North Carolina A&T announced its 2020 Cheatham-White and Dowdy scholar cohorts this spring, it served as a reminder of the continued outstanding quality of students seeking to study at our university.
The 20 Cheatham-White Scholars, for instance, have an average cumulative GPA of 4.41 and SAT score of 1,371, while the 20 Dowdy Scholars bring with them an average GPA of 4.3 and 1,352 on the SAT. Both highly competitive programs attracts hundreds of applicants from across North Carolina and around the country.
But what do the increasingly high-achieving students entering A&T do once they are here? Their accomplishments run the gamut, from earning admission to top graduate programs to landing outstanding jobs with major employers. The accomplishments of three young women this spring underscored the point that A&T students compete against the best and brightest -- and win.
Outgoing Student Government Association (SGA) President Alison Gilmore completed an undergraduate honors program experience this spring with a B.S. in Journalism, having also edited The A&T Register, the university's storied campus newspaper and website. Two more honors came her way at the end of the school year: Gilmore won a 2020-21 Fulbright grant and just weeks after that, was selected as a Charles B. Rangel International Affairs Summer Enrichment Program scholar. A spring graduate, she is now planning for graduate studies in international affairs.


Incoming SGA President Brenda Caldwell, who just completed a term as SGA attorney general, was named a finalist for the highly competitive Truman Scholarship, one of only 190 students nationwide so chosen. It was the latest honor for a Dowdy Scholar and rising senior who has also been named 2019 North Carolina Campus Compact Community Impact Student Award winner and a Newman Civic Fellow, part of a national network of engaged student leaders. Caldwell will attend law school upon her graduation in 2021.


Najawa Huntley, who graduated this spring with a B.A. in Political Science and a minor in Spanish, was selected as UNC System Presidential Scholar by system President William Roper. Along with the other two scholars chosen for the highly competitive program, Huntley will serve a one-year appointment in the UNC System officer, interacting with Roper and senior leadership, members of the UNC Board of Governors and working in education, public policy, and research on data and trends affecting higher education. Huntley and her fellow scholars were chosen from this spring's graduating classes of all 17 campuses of the UNC System.


Lab Report
A&T to Play Key Role $5.7M Diabetes Research Project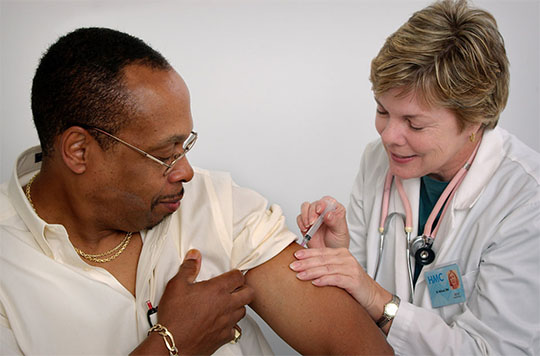 Some 53,000 North Carolinians are diagnosed each year with diabetes, a disease that disproportionately affects African Americans..
Fueled by a $5.7-million National Institutes of Health grant, a four-university consortium including North Carolina A&T will focus on advancing innovative research on diabetes, a complex disease diagnosed in 53,000 North Carolinians each year.
In addition to A&T, Duke, Wake Forest and UNC Chapel Hill are partners in the collaboration, funded by the NIH's National Institute of Diabetes and Digestive Kidney Disease.
"This award represents several years of hard work on the part of diabetes researchers across our state," said Elimelda Moige Ongeri, Ph.D., professor and associate dean of research and innovation in the A&T College of Health and Human Sciences. "The future of biomedical research is team science, and this regional effort is a great example of what can be achieved when we work together."
The award will support four cores that leverage unique strengths at each institution, making resources available to diabetes investigators on all four campuses. N.C. A&T will be home to the Enrichment/Community Engagement Core led by Ongeri and will serve as host for the annual diabetes research symposium. A&T will lead efforts to engage stakeholders from minority-serving institutions across the state.
Wake Forest will be home to the Genomics/Proteomics Core. The University of North Carolina at Chapel Hill will tackle the Advanced Clinical Studies Methods Core, while Duke will focus on the Metabolomics Core.
"The funding is going to allow us to bring a wide variety of resources to take on this horrible disease, including resources for A&T researchers and representatives from underserved populations," said Ongeri.
Diabetes and associated health disparities are priority research areas at N.C. A&T. Diabetes is the third leading cause of death in the country with complications that include chronic kidney disease, cardiovascular disease, retinopathy and nerve damage.


Data Points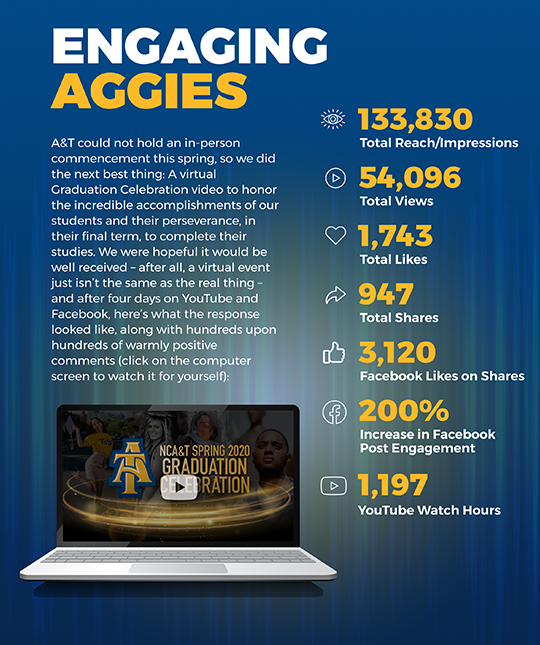 CHANCELLOR
Dr. Harold L. Martin Sr.

CHIEF OF STAFF
Erin Hill Hart


ASSOCIATE VICE CHANCELLOR
Todd Hurst Simmons

GRAPHIC DESIGNER
Kimberly "Nikki" Pressley



WEB MANAGER
Yvonne L. Halley

STAFF WRITERS
Tonya D. Dixon
Jordan M. Howse


North Carolina Agricultural and Technical State University is a land-grant university that is ranked by the Carnegie Classification of Institutions of Higher Education as a Doctoral University: High Research Activity.

N.C. A&T does not discriminate against any person on the basis of age, color, disability, gender identity, genetic information, national origin, race, religion, sex, sexual orientation, veteran status, or any other basis protected by law. For inquiries regarding non-discrimination policies, contact the Title IX Coordinator at titleixcoordinator@ncat.edu.

N.C. A&T is an AA/EEO employer, and it is an ADA compliant institution; thus, facilities are designed to provide accessibility to individuals with physical disabilities.