A MONTHLY UPDATE ON EDUCATION, RESEARCH AND IMPACT


VOL. 3 / NO. 7/ NOVEMBER 2020



Chancellor's Message
A Year Concluding in Gratitude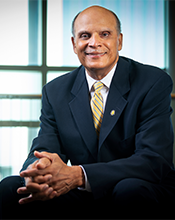 U.S. higher education has truly never experienced a year like 2020. From COVID-19 to racial unrest, it has been a year of remarkable upheaval, with colleges and universities caught in the tragedy and heartache, the sound and the fury.
And yet, at North Carolina A&T, we have persevered. Last week, two days before Thanksgiving, we closed out our fall term after successfully delivering 14 weeks of in-person and online instruction without the usual stoppages for Labor Day and Fall Break. As the coronavirus pandemic continues its third-wave surge, we are grateful that our students will be home with their families, not scheduled to return to campus until the spring term begins.
Our positivity rate ended at 5.15 percent, for students and employees testing positive since mid-summer out of nearly 12,028 total tests. Our residence hall set aside for student isolation never exceeded capacity, and none of our students developed illness that required hospitalization. We are profoundly grateful to have been spared when so many others suffered sickness and lost their lives.
Even as we safeguarded against the pandemic, N.C. A&T reached out to form partnerships with numerous new corporate friends, who are looking to our university in growing numbers to invest in equity, diversity, STEM graduates and other disciplines connected to critical workforce needs. Walmart, IBM, Cree, Bank of America, Capital One, Dow, Dominion Energy, Arch Mortgage Insurance and more looked hard at A&T and found opportunity and promise. Again, we are grateful for their support.
As we look toward a spring semester that will begin Jan. 25, we are witnessing other new, hopeful signs. Vaccines for COVID are poised to begin being administered, and additional therapies are in testing stages, promising relief from the pandemic in 2021. Current projects are being completed at A&T and others are beginning that will expand our capacity and ability and opportunities for our students well into the future.
In this season of gratitude, we are thankful for all of the above and much more. May your holiday season resound with the same high note sounding throughout Aggieland.


- Chancellor Harold L. Martin Sr.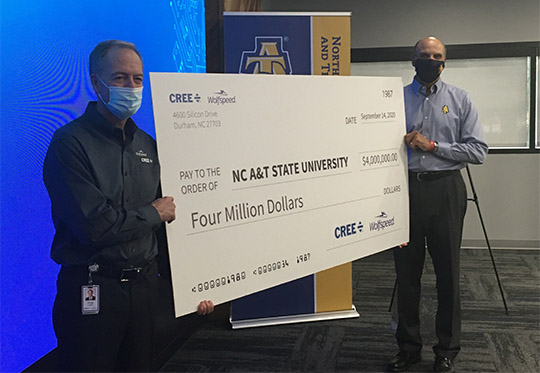 Cree CEO Gregg Lowe presents a $4-million check to Chancellor Martin in support of STEM education.

+ To learn more about North Carolina A&T, please visit iTunes and subscribe to the On Point with Chancellor Harold L. Martin podcast.

Impact
A&T Emerges as Likely Partner for Space Force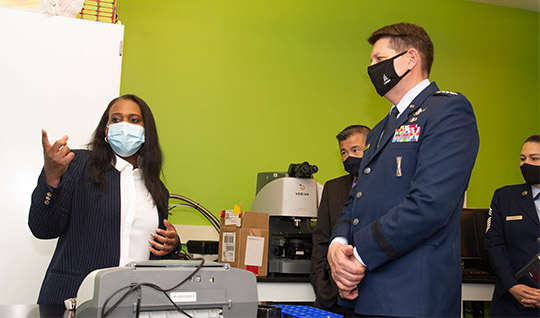 Joint School of Nanoscience and Nanoengineering Dean Sherine Obare leads Gen. David D. Thompson and a Space Force delegation in a tour of labs and instructional facilities.
The newest branch of the American military, the U.S. Space Force, is establishing a university consortium, and North Carolina A&T is at the top of the list of institutions being considered for the initial membership of five.
The Space Force, which monitors the more than 26,000 satellites and space laboratories orbiting the earth, is tasked with recruiting personnel and facilitating research, both of which will benefit from partnerships with higher education. Gen. David D. Thompson, vice chief of space operations for the Space Force, led a delegation that made A&T its first stop on a tour of U.S. university campuses in October.
The delegation included Maj. Romeo White '08, who was persuasive in focusing Space Force leadership on opportunities at A&T. "He spoke up and said, 'Let me tell you about my alma mater,'" said Thompson, who met with Chancellor Harold L. Martin Sr., as well as multiple deans, faculty, staff and ROTC cadets about the possible partnership.
Thompson, who spent 35 years in the Air Force before being transferred to Space Force leadership earlier this year, encouraged A&T students to "be bold and dare great" in considering careers in the Space Force.
The potential of a relationship with the Space Force will come as no surprise to those familiar with A&T's longstanding relationship with the U.S. space program, most prominently personified by the late Ronald McNair, Ph.D., an A&T graduate and astronaut, who tragically died in the 1986 Space Shuttle Challenger explosion. The university has partnered with NASA over the years in sending graduates to the space agency and collaborating in research.
Earlier this year, an interdisciplinary team led by A&T received a four-year, $8 million award from NASA to address traffic congestion by developing, testing and eventually deploying air passenger taxis as a supplemental means of transportation. The research project is being led by Abdollah Homaifar, Ph.D., principal investigator and a NASA Langley distinguished professor in the College of Engineering.


These Three Things
Corporate America Goes Big With N.C. A&T


Much of the corporate support A&T received in 2020 in some way supported the STEM programs for which the university is well known.
When we at A&T look back on 2020 in future years, one of its most lasting and significant legacies will be the extraordinary growth in corporate support for the university.
From IBM to Dow to Dominion Energy, businesses stepped up in unprecedented ways to form partnerships with A&T, investing in the university's highly impactful STEM programs, supporting research and expanding degree pipelines to ensure growth in production of the highly educated, workforce-ready graduates for which A&T is widely known.
Those investments pushed the Campaign for North Carolina A&T well past its $100-million goal. As the campaign approaches its Dec. 31 conclusion, A&T leaders are predicting an eye-catching finish. "We have numerous conversations underway with additional partners that we believe will enable us to close strong and create a more prosperous future for our students, faculty, academic programs and facilities," said Vice Chancellor for University Advancement Ken Sigmon.
Each investment was special and focused for maximum impact, but among them all, these three hold particular promise for the future of A&T.

Walmart. The largest retailer in the world invested $5 million in programs in the College of Engineering and the Willie A. Deese College of Business and Economics. The Equity in Education Initiative – or E2I – will touch the lives of thousands of A&T students beginning in 2021 and holds special promise for strategic initiatives, such as closing outcomes gaps between male and female students and critical workforce needs. Also included in the partnership are prominent Black business organizations The Executive Leadership Council and Management Leadership for Tomorrow. The Walmart gift is expected to be the first of several that will support E2I.


Cree. The Research Triangle-based global leader in silicon carbide technology made a September gift of $4 million to A&T to create the Cree | Wolfspeed Endowed Scholars Program and support STEM program development. Cree CEO Gregg Lowe, Employee Communications Manager Pam Bullock and Diversity, Equity and Inclusion Director Tamara Pearce visited A&T in November, touring labs and presenting $5,000 checks to three engineering, science and technology student organizations.


Bank of America. As part of the nationally known bank brand's $1-billion commitment to advancing racial and equality and economic opportunity, BOA gave $1 million to A&T to support up-skilling and reskilling partnerships that will target specific hiring needs of employers in North Carolina. As part of this investment, BOA appointed Ebony Thomas '93 to its Environmental, Social & Governance, Capital Deployment and Public Policy team as the program executive for Racial Equality and Economic Opportunity Initiatives.


Lab Report
COVID Leadership: Better Thermometers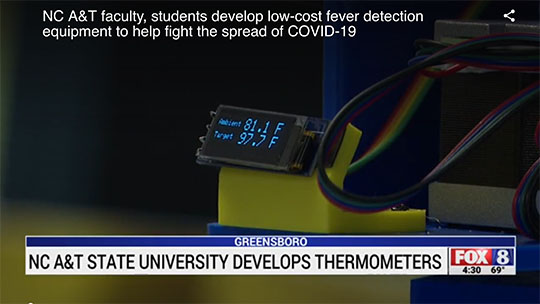 WGHP-Fox 8 was one of many news outlets that covered an N.C. A&T team's development of low-cost and easy-to-make temperature devices to meet needs of the COVID-19 pandemic.
While colleges, businesses, schools and organizations around the country struggled with the demands of the COVID-19 pandemic, North Carolina A&T investigators got to work solving one of the most essential challenges in containing the pandemic.
Anyone who has entered a medical office, business, airport or other heavy-traffic area in recent months knows what goes with such a visit – a pre-emptive temperature measurement, to ensure you don't have a fever that could be indicative of coronavirus infection. Those instant-measurement devices can be costly, running $3,000 to $100,000 each, depending on their sophistication, placing a significant financial burden on places interested in keeping COVID-19 outside their boundaries.

In the best tradition of practical-solution oriented land grant campuses, an A&T team using a $300,000 grant from the North Carolina Policy Collaboratory and led by engineering professor Dr. Ray Tesiero developed the Aggie Thermometer Arm, which takes forehead temperature readings, but only costs about $150 in parts to create. Tesiero and the grad students from Computational Data Science and Engineering and Civil Engineering also created a second prototype – the Aggie Thermal Eye, which uses a camera to take temperature from tear ducts and projects a thermal image on a computer screen.
Parts for each of the system can be created inexpensively with 3-D printing systems and assembled by student teams. Tesiero and his students continue to refine their designs, building in such enhancements as an intercom system that can notify staff when an individual logs an above-average temperature reading. He said the devices not only can cut potential diagnostic costs, but present a learning opportunity for schools.
"It would be a really good learning tool for K-12 science teachers, where if some of the schools have 3-D printing capabilities or they could come to the university and we could print the parts for them as some sort of science instruction," Tesiero said.


Data Points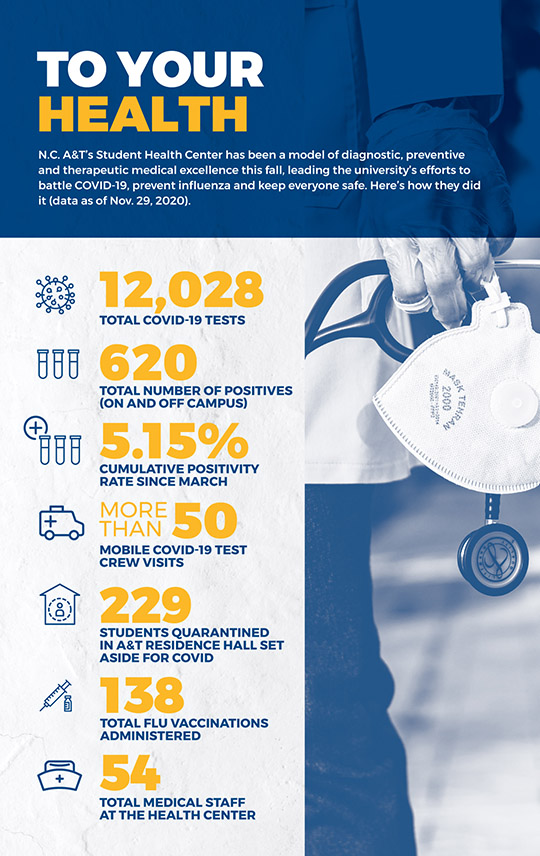 CHANCELLOR
Dr. Harold L. Martin Sr.

CHIEF OF STAFF
Erin Hill Hart


ASSOCIATE VICE CHANCELLOR
Todd Hurst Simmons

GRAPHIC DESIGNER
Kimberly "Nikki" Pressley



WEB MANAGER
Yvonne L. Halley

STAFF WRITERS
Tonya D. Dixon
Jordan M. Howse


North Carolina Agricultural and Technical State University is a land-grant university that is ranked by the Carnegie Classification of Institutions of Higher Education as a Doctoral University: High Research Activity.

N.C. A&T does not discriminate against any person on the basis of age, color, disability, gender identity, genetic information, national origin, race, religion, sex, sexual orientation, veteran status, or any other basis protected by law. For inquiries regarding non-discrimination policies, contact the Title IX Coordinator at titleixcoordinator@ncat.edu.

N.C. A&T is an AA/EEO employer, and it is an ADA compliant institution; thus, facilities are designed to provide accessibility to individuals with physical disabilities.