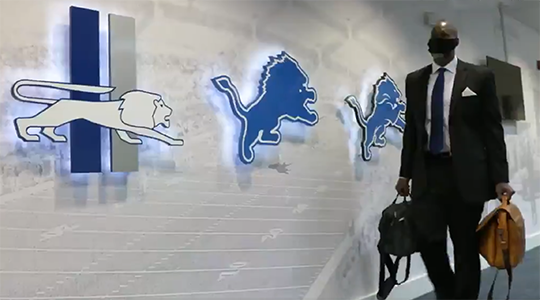 New Detroit Lions GM Brad Holmes ('02) arrives for his first day of work.
Former North Carolina A&T football star Brad Holmes ('02) was recently named general manager and executive vice president of the NFL's Detroit Lions, the first graduate of a historically black university to ever hold the GM position for a major professional sports team in America.
Prior to landing the new role, Holmes was director of college scouting for the L.A. Rams, for whom he has worked for the past 18 years. He played a major role in securing the on-field talent that led the Rams to a Super Bowl berth against the New England Patriots in 2019.
"Throughout our search for a new general manager, Brad was someone who stood out immediately," said Lions President and CEO Ron Wood. "His abilities as a critical thinker, along with his extensive experience implementing technology and analytics into his approach to scouting, were among the many decisive qualities Brad displayed in our time getting to know him during the interview process."
At A&T, from which he graduated cum laude with a B.S. in journalism and mass communications, Holmes was a four-year letterman, two-year starter and 2001 captain of the Aggies football team, which won the Mid-Eastern Athletic Conference and Black college football national championship in 1999.
During his time at A&T, he also triumphed over incredible challenges resulting from a terrible accident.

While Holmes was visiting Tampa during his 1999 Christmas break, his car was hit head-on by another vehicle, leaving him with a ruptured diaphragm and partially paralyzed. He fell into a coma and suffered a stroke before undergoing emergency surgery. With intensive speech and physical therapy, he recovered his ability to speak clearly and was released to play football again in May 2001.
After joining the Rams in 2003 as an intern, Holmes transitioned into scouting and served in a variety of roles within the organization's player personnel department, including national scout, area scout, national Combine scout and scouting assistant.
Holmes is the son of Marvin Holmes, who also played football at A&T and was a guard for the Pittsburgh Steelers (1971-73), and nephew of former Lions defensive back Luther Bradley (1978 first-round NFL draft pick).