A MONTHLY UPDATE ON EDUCATION, RESEARCH AND IMPACT


VOL. 4/ NO. 2/ FEBRUARY 2021



Chancellor's Message
New Frontiers, Expanding Horizons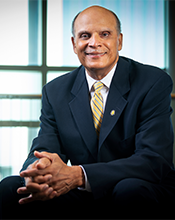 Late last month, I joined colleagues from Howard, Prairie View A&M, Morgan State and Florida A&M for a Friday afternoon meeting that in past years would have been nothing short of remarkable: A conversation with Google CEO Sundar Pichai.
For 1½ hours, the six of us discussed topics of mutual interest – the need for more highly educated STEM professionals, opportunities to expand the pipeline between leading historically Black colleges and universities (HBCUs) and Google, and research strengths at our various institutions. It was a constructive dialogue, with a promise of much more ground to cover in future conversation with Mr. Pichai and other Google senior leaders.
In recent years, North Carolina A&T has been fortunate to begin showing up on the collective agenda of corporate America. We've forged partnerships with companies across numerous sectors – industry leaders such as AT&T, Bank of America, Walmart, Carrier Global, Cree Lighting, Dow, 3M, Corning, Goldman Sachs and more, not to mention governmental organizations, such as the National Security Agency and the U.S. Space Force.
Leaders around the country increasingly recognize the value of a North Carolina A&T degree, and the worth of the individuals who emerge from our campus bearing them. HBCUs have long contributed disproportionately to our size to the representation of Black Americans in the corporate environment; as the nation's largest HBCU, as well as a research university with deep strengths in Engineering disciplines, Computer Science and more, A&T's contributions are first in class. 
In a nation reckoning anew with issues of race and struggling to meet the needs of an increasingly knowledge and tech-driven economy, those contributions have taken on a new value.
There is little doubt that we have significant ground to make up between ourselves and majority culture institutions that have been in relationship with many such institutions for years. We look forward to the ongoing challenge of building our own, in support of greater opportunities for our students, for our faculty, for our research programs and for the communities we serve.
- Chancellor Harold L. Martin Sr.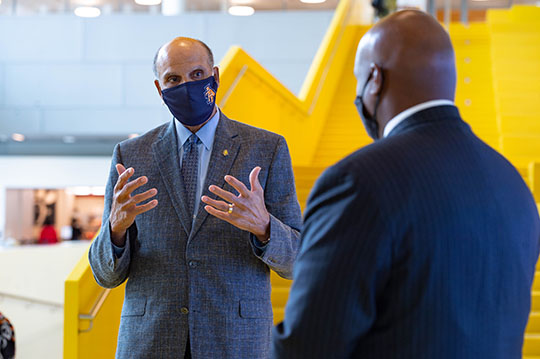 Chancellor Martin and a senior Bank of America executive discuss a new program to advance racial equity and economic opportunity, supported by a $1 million BOA investment, at a press event held by the university and the bank.


Impact
A&T Launches First UNC System Vaccine Clinic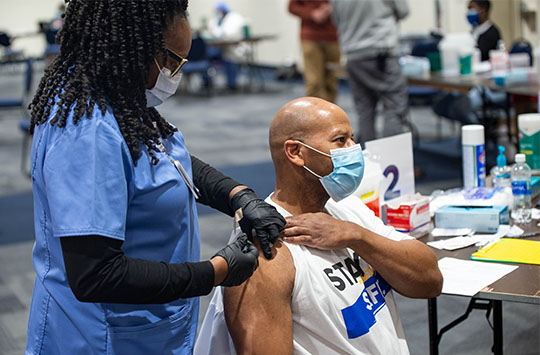 A nurse administers a first shot for a patient at the N.C. A&T COVID Vaccine Clinic. He was one of 350 vaccinated that day.
North Carolina A&T opened a campus vaccine clinic on Feb. 11, the first of its kind in the University of North Carolina System, administering 223 Moderna vaccinations on its first day.
The clinic so significantly exceeded expectations for its initial rollout, its allotment of vaccines was more than tripled for the second clinic day to 750. In a state and nation that continues to struggle to vaccinate Black people, the clinic is already playing a significant role in getting critical, preventive medicine into the arms of those who need it the most.
The clinic's launch comes on the heels of a 2020 fall academic term that played out extraordinarily well for A&T. Unlike many universities across the country, A&T maintained a below-average infection rate throughout the term, thanks to diligent prevention measures undertaken by students, faculty and staff. As a result, the university was able to conduct in-person classes the entire fall without having to pivot to solely online instruction.
With the first vaccines receiving federal approval in December 2020, A&T geared up to do its part to help stem the pandemic's spread. Through a partnership with the NC University Collaboratory, A&T acquired refrigeration units necessary to store vaccines at ultra-cold temperatures.
In January, Chancellor Harold L. Martin Sr. and A&T First Lady David W. Martin recorded a PSA of themselves receiving the vaccine and speaking to the need for everyone to get the shot. The resulting videos got heavy attention via social media, news coverage and inclusion in the state Department of Health and Human Services vaccination campaign.
On March 2, the university will make a further contribution to vaccine education, when it hosts Dr. Kizzmekia Corbett for a Chancellor's Speaker Series dialogue. The lead of the scientific team that created the Moderna vaccine, Corbett is both a UNC Chapel Hill graduate and an African American woman, recently featured in the prestigious TIME100 Next issue. She will engage the A&T community and other interested participants on "The Race to Vaccinate."

+ To learn more or watch the livestream of Dr. Corbett visit the A&T website



Trendline
A&T Rising in Fulbright Program Competitiveness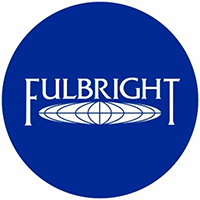 Five students from North Carolina A&T are among the outstanding individuals nationally who have surfaced as semifinalists for prestigious Fulbright Program Grants this year, likely the largest group in school history.

University records are limited in how far they go back, but A&T officials have not been able to find a larger class of semifinalists. The students' consideration for the grants comes at a time when A&T is growing rapidly at the honors student level, with more applications and stronger competition than ever for the university's top scholar programs.

The semifinalists now will be forwarded to consideration by the host country each has identified for their potential grant. They are as follows:
Jasmine Armstrong, senior, Economics, and a Dowdy Scholar in the University Honors Program, is seeking a study/research grant in Taiwan to pursue her MBA in international human resource development at National Taiwan Normal University.
Nasya Blackwell, a May 2020 graduate with a B.A. in English and B.A. in Political Science, and a 2019 Gilman International Scholarship recipient, who seeks an English teaching assistant grant in Colombia.
Malique Brunner, a 2019 B.S. graduate and 2020 M.S. grad, both in Bioengineering. A Dowdy Scholar and a Woodland Hall Fellow, she is seeking for an English teaching assistant grant in Bulgaria with the Fulbright/America for Bulgaria Foundation.
Joanna Martinez, a December 2020 graduate with a B.A. in History and a University Honors Program member. A 2020 Public Policy and International Affairs Junior Summer Institute Fellow, she is seeking an English teaching assistant grant in Mexico.
Anderlyn Smith, a senior Professional Theatre student and Dowdy Scholar in the University Honors Program, is seeking a study/research grant, specifically creative/performing arts, in South Africa in the field of theater arts – acting.
A&T has had a total of five Fulbright Program Grant recipients since 2013. The university  also served as a host for a national Fulbright Program virtual information session earlier this month in which students, faculty and staff were able to learn more about the program.
"We are elated that so many of A&T's Fulbright Program grant applicants have been recognized nationally and will move forward to be considered by their host country," said Margaret Kanipes, Ph.D., director of the University Honors Program and chemistry professor.


Lab Report
COVID and Animals: Assessing the Risk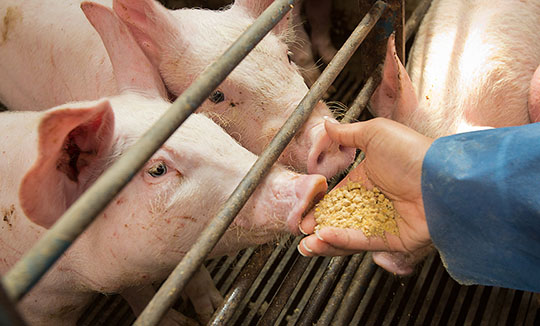 Pigs are big business in North Carolina: Along with chickens, they are the state's no. 1 agricultural commodity.


Can COVID-19 affect pigs? Poultry? Other livestock? The assumption thus far has been "no," even though two previous epidemic-causing coronaviruses in the past 20 years have been detected in agricultural animals.

A team of leading North Carolina A&T animal scientists are joining forces on a project aimed at definitively answering those questions and also determining what protocols should potentially be in place to protect humans from infection by animal carriers. Their work is being supported by a $240,000 grant from the NC Policy Collaboratory. The work is being led by principal investigator Radiah Minor, Ph.D. – an animal sciences professor and immunologist whose research has included swine.

COVID-19 itself is thought to be of animal origin  in China. Despite assumptions thus far about the virus and livestock, but anecdotal evidence suggests we need to know more. During the summer of 2020, when the virus was spreading virtually unchecked around the world, she overlaid maps of less-populated COVID hot spots in North Carolina with maps of counties with significant involvement in pig, poultry and cattle production. "They matched," she said.

While risk to the food supply appears to be minimal, if research shows that farm animals can serve as reservoirs for the virus without becoming sick themselves, there could be significant risks to humans who come into contact with those animals. In a state where pigs and chickens are the top agricultural commodity, accounting for $10 billion in annual revenue and 44,000 jobs statewide, these issues deserve further attention. North Carolina is America's No. 2 swine producer, with 9.7 million hogs on 2,300 operations around the state.

Others taking part in this fast-tracked project include Leonard Williams, Ph.D., director of N.C. A&T's Center for Excellence in Post-Harvest Technologies; Andrea Gentry-Apple, DVM, and Uchenna Anele, Ph.D., from the Department of Animal Sciences; Yewande Fasina, Ph.D., whose specialty is poultry; and Jenora Waterman, Ph.D., and Vinaya Kelkar, Ph.D., from the Department of Biology. 

+ Learn more at https://www.ncat.edu/news/2021/02/safe-livestock.php

Data Points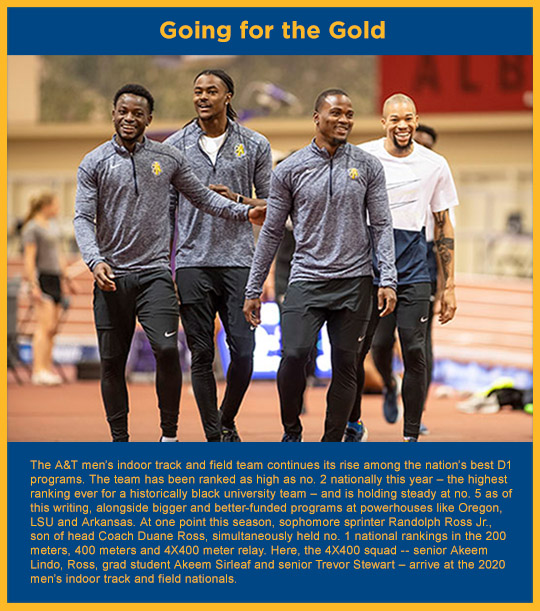 CHANCELLOR
Dr. Harold L. Martin Sr.

CHIEF OF STAFF
Erin Hill Hart


ASSOCIATE VICE CHANCELLOR
Todd Hurst Simmons



WEB MANAGER
Yvonne L. Halley

STAFF WRITERS
Tonya D. Dixon
Jordan M. Howse


North Carolina Agricultural and Technical State University is a land-grant university that is ranked by the Carnegie Classification of Institutions of Higher Education as a Doctoral University: High Research Activity.

N.C. A&T does not discriminate against any person on the basis of age, color, disability, gender identity, genetic information, national origin, race, religion, sex, sexual orientation, veteran status, or any other basis protected by law. For inquiries regarding non-discrimination policies, contact the Title IX Coordinator at titleixcoordinator@ncat.edu.

N.C. A&T is an AA/EEO employer, and it is an ADA compliant institution; thus, facilities are designed to provide accessibility to individuals with physical disabilities.