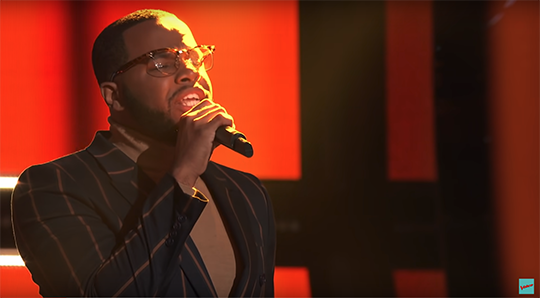 Mr. A&T Victor Solomon in a scene from his electrifying debut on the hit NBC show, "The Voice."
North Carolina A&T has long been a launching point for professionals in the visual and performing arts to move on to greater success, from former drama teacher Richard Harrison's Broadway acclaim that led to his appearance in 1935 as the first Black person on the cover of TIME to Kevin Wilson's ('11) 2018 directorial nomination for an Oscar for his short film, "My Nephew Emmett."
The latest Aggie to keep that tradition alive is still a student, but drawing attention and acclaim perhaps more so than any artistic predecessor in the 130 year history of our university: Victor Solomon, 22, whose vocal excellence is winning raves and fans on the NBC network's hit singing competition series, "The Voice."
Solomon, who serves this school year as the most prominent male member of our student body, Mr. A&T, debuted on the show on March 1, delivering a blind audition that floored the show's celebrity judges, including John Legend, Nick Jonas and Blake Shelton. The final performer in the debut episode of the show's 20th season, Solomon sang Legend's Academy Award-winning hit, "Glory."
During banter with the judges following his performance, Solomon and Legend jumped into an impromptu duet of the first verse of another Legend song, "Ordinary People," after Solomon confessed he won a school talent show singing the hit in eighth grade. Unsurprisingly, Solomon chose Legend to be his coach for the competitive stage of the series.
Solomon, an A&T senior, followed that up with a performance at the 17th national Mr. HBCU competition, winning that title, as well as the contest's oratory and talent sub-competitions.
For a standout member of the acclaimed A&T Fellowship Gospel Choir and a longtime performer in church and school, occupying the limelight is nothing new. If the nearly 8 million viewers watching The Voice's two-hour season debut, the nation's most-watched television show that night, caused any nervousness, Solomon didn't show it. In fact, as judges turned their chairs to signal their interest in coaching him, he rose to the occasion, with a flurry of vocal gymnastics that wowed them further.
This was the first time Legend has ever turned his chair for a contestant singing one of his many hits. He affectionately called out Solomon as a student "at an HBCU where he's the BMOC at N.C. A&T."
The online version of Solomon's performance has now been seen millions of times on multiple video platforms. Watch it here, and catch The Voice on Mondays, 8 p.m., on your local NBC affiliate.