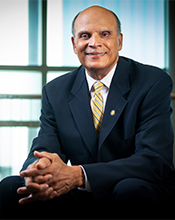 Nine years ago, North Carolina A&T quietly launched an ambitious effort to secure the funds necessary to transform some of our most necessary dreams into more immediate realities.
Looking realistically at our needs, we committed ourselves to raising $85 million for student aid, faculty support, programmatic enhancement and facilities. It seemed a steep hill to climb, but we knew it was a challenge we must accept in the highly competitive realm of public higher education.
Six years later, we entered the public phase of the campaign, having raised $68 million in gifts and pledges. In 2019, we reached the original goal, but decided we could do better. We set our sights on a $100-million target by Dec. 2020.
With the energy of a stretch goal, a significant tailwind of success and North Carolina A&T's very public ascent as a rising land grant research institution and arguably the nation's top historically black university, we began last year in dogged pursuit of the nine-figure mark. We found that as we demonstrated our belief in our university, in our students, in our faculty and in our future, that show of confidence was infectious.
Donors whom we had never known before were captivated by our story. Corporations eager to support our STEM programs and make serious commitments to equity stepped forward in astonishing numbers. Alumni pulled out their checkbooks and made commitments that were equal parts touching and inspiring. One donor in particular, philanthropist MacKenzie Scott, invested $45 million in our university with no strings attached, saying that by her observation, A&T knew exactly where the money would be most wisely invested.
We closed the books on the Campaign for North Carolina A&T on Dec. 31, and I'm pleased to say that we raised $181.4 million – nearly $100 million more than our original goal. The generosity of our supporters likewise propelled our total assets under investment to $153 million.
Those funds are already being put to great use, supporting the launch of new centers of excellence in multiple colleges, supporting a new merit-based scholarship program, making possible the recruitment and hiring of outstanding new faculty and more.
Perhaps the best news in all of this is that just because our campaign has formally ended, support continues to manifest for A&T. We are in daily conversation with corporate partners, alumni and foundations interested in donating to A&T or increasing their current level of giving.
To say all of this is energizing and inspirational would be the understatement of the year. We're grateful for what it says about our university now, and excited about what it means for our future.
- Chancellor Harold L. Martin Sr.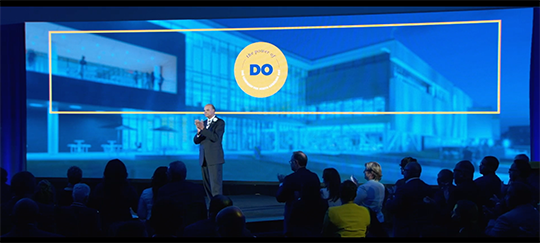 Chancellor Martin speaks to donors at the public launch of the Campaign for North Carolina A&T in 2018.