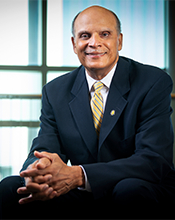 One of the management essentials we are committed to at North Carolina A&T is maintaining a strong, up-to-the-minute understanding of where we stand among our peers and with our constituents. We must always know more than anyone else about our university, and always be in the process of learning more. Not just the basic facts and trends, but all of that in the context of a crowded and dynamic higher education marketplace and in connection to our mission, goals and outcomes.
That may seem like common sense for any competitive higher education enterprise, and to some extent, it is. But as we dive deeper into the facts and ideas that characterize North Carolina A&T, they continue to arm us with messages that help distinguish our university before prospective students and employees, the higher education industry and the world beyond.
What do I mean? Consider:
North Carolina A&T enrolls more African American first-year students each year than the top 10 national universities in U.S. News & World Report's "Best Colleges" issue combined. (Owing to ties within the top 10, it's actually the top 11. And the claim still holds.)
That's an extraordinary fact, given that the top 11 include Princeton, Harvard, MIT, Yale, Stanford, Chicago, Penn, Cal Tech, Duke, Johns Hopkins and Northwestern. (I share that list entirely without prejudice against any of those fine universities.) Furthermore, the claim offers an intriguing lens through which to see the whole of A&T, particularly in light of the following:
A&T has been America's largest HBCU for nine consecutive years and is now the largest that any HBCU has ever grown. At 13,487 students, we are nevertheless a medium-sized doctoral research university, albeit one that has a dramatically outsized impact on the STEM workforce and other career fields.
Our students have outstanding academic credentials – an average entering GPA of 3.77, and commensurate test scores. Out-of-state students, who are not allowed to displace in-state students who meet our admission standards for that enrollment cycle, come in with even higher grades and scores.
Aggies graduate from our university in striking numbers – nearly 5,000 of them over the past two academic years, including the most Black graduates of any university in America in Engineering, Journalism, Liberal Arts and Agriculture. Our graduates enter the workforce with salaries that rank 2nd among all universities in the UNC System, a little more than $54,900, per PayScale and U.S. News & World Report.
We believe those claims combine to tell a fascinating story -- one that is unique in higher education. For those who care about academic rigor, the land-grant mission and representation and diversity in higher education, it's particularly compelling.
We are committed to writing the next successful chapter this academic year and to exemplary education, service and discovery in the very best tradition of higher education. We invite you to watch this space as that chapter unfolds and we continue to take our university to places where no campus has ever been.
- Chancellor Harold L. Martin Sr.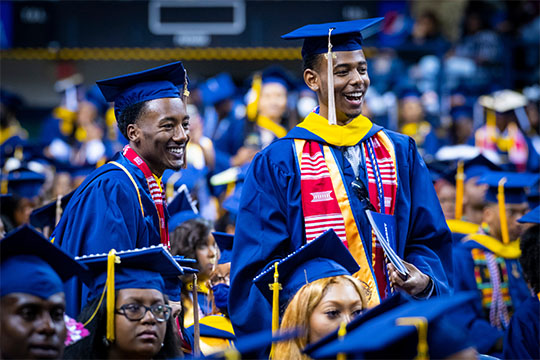 North Carolina A&T graduated 2,600 students in 2021-22. They enter the workforce earning $59,000 on average with a strong emphasis on STEM disciplines.