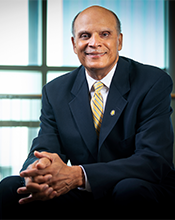 The latest significant business move fueling the economic renaissance within East Greensboro -- home to North Carolina A&T – went public last summer with the announcement that a new, $108-million data center would be established in the research park overseen by the university.
At that time, ImpactData had just won a $530,359, four-year grant to help launch its new enterprise at Gateway Research Park, just a 3-minute drive from A&T's main campus. ImpactData will build and operate a 110,000-square-foot "Dream Center," a multi-use facility that will include a 10-megawatt data center, a higher education innovation center and workforce development co-working flex space to support the neighboring community. The center will support dozens of construction jobs and, once open, it will employ 28 professionals in competitive high-tech jobs.
Founded in 2020 and headquartered in Atlanta, ImpactData is the brainchild of HBCU alumni Terry Comer and David Calloway. They have a shared vision of addressing the growing digital divide separating underserved communities and the rest of the nation by establishing Dream Centers on or near select HBCU campuses – a novel co-location idea in the highly competitive high-tech marketplace.
Each center will connect users to mission-critical technology and the infrastructure necessary to compete in the modern global economy. ImpactData's principal partner in this ambitious venture is the world's largest digital infrastructure firm, DigitalBridge, a Florida-based company with $35 billion in managed assets.
ImpactData's plans for East Greensboro are but the latest for this area. Companies are lured by low costs, a business-friendly environment and the many educational and research resources available through A&T, America's largest historically Black university and its top producer of Black STEM graduates. ImpactData's neighbors at Gateway will include the rapidly growing advanced manufacturing business, Core Technology, satellite operations for the U.S. Dept. of Agriculture and the Joint School of Nanoscience and Nanotechnology.
Housing is springing up adjacent to North Carolina A&T to serve new high-tech professionals being attracted to our area. Bailey Village, a 172-unit luxury apartment complex, opened last fall across the street from the A&T College of Engineering. Construction is set to begin later this year on The Resurgent, a $60-million housing, retail and office space development facing the main entrance to A&T.  And on our campus, work will begin in 2023 on a 450-bed residence hall adjacent to A&T's 10-acre National Register Historic District.
The economic halo around A&T is approaching the kind of development that many 1860s land grant universities have experienced for generations, but which has been beyond the reach of 1890s land grants, such as A&T. The growing awareness of and appreciation for HBCUs across the nation is finally overcoming the forces that have long blunted investments in our institutions and the communities they serve.
When we look back at this period in future years, I have no doubt we will see it as a pivotal moment for our community and as a model of what is possible in partnership with A&T. In the meantime, we look forward to the promise of more investment in East Greensboro and more opportunity for our students and our neighbors.  
- Chancellor Harold L. Martin Sr.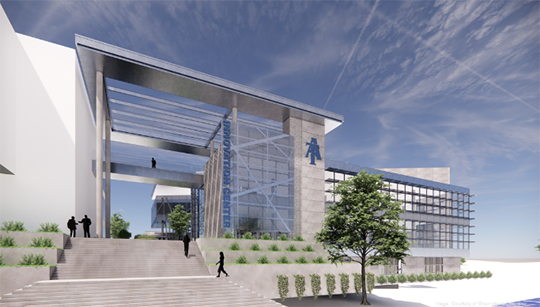 Renderings show the Dream Center to be built by ImpactData as part of its partnership with North Carolina A&T.