A MONTHLY UPDATE ON EDUCATION, RESEARCH AND IMPACT


VOL. 2 / NO. 9 / NOVEMBER, 2019



Chancellor's Message
Thankful for Excellence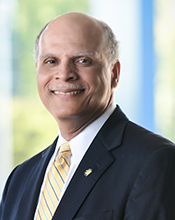 This has been another banner year of achievement, progress and unprecedented success for North Carolina A&T, and as we enter the season of giving thanks, I'm reminded that there is a long and growing list of things to be grateful for at our university.
One development that is rich with potential for our long-term success as a research university that attracts outstanding faculty and graduate students is our development of new centers of excellence. A&T has birthed three new such centers this year, raising to five the number of top research hubs at our institution:
Center of Excellence in Product Design and Advanced Manufacturing (new)
Center of Excellence in Entrepreneurship and Innovation (new)
Center of Excellence in Cybersecurity Research, Education and Outreach (new)
Center for Excellence in Post-Harvest Technologies and
STEM Center of Excellence for Active Learning
Each of these enterprises is based on decades of leading research and scholarship at our university. Each is also centered on industry and marketplace opportunities and needs that not only loom large for North Carolina, but for our nation as a whole. Our two older excellence centers have already made substantial marks over their young lives, generating publications and patents and moving technology into the marketplace.
With newly appointed leadership and aggressive strategic plans now in implementation, the new centers are off and running, engaging federal agencies, recruiting impactful advisory boards and drawing faculty researchers into partnership on research with potential and promise.
These are remarkable signs of growth and maturation for our land grant, doctoral research university. My hope for 2020 is that they'll give us many more reasons to be thankful by this time next year.
- Chancellor Harold L. Martin Sr.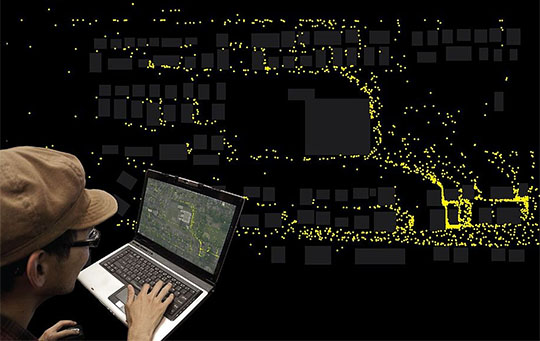 Data visualization is one of multiple areas of focus for the Center of Excellence in Cybersecurity Research, Education and Outreach, one of three new centers of excellence in at N.C. A&T. Credit: Wikipedia Commons

+ To learn more about North Carolina A&T, please visit iTunes and subscribe to the On Point with Chancellor Harold L. Martin podcast.

Impact
Two More Aggies Headed to Stanford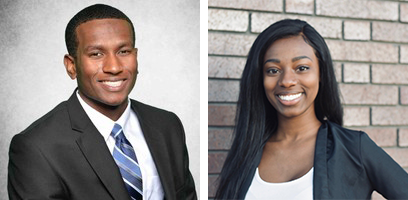 A pair of College of Engineering students have been selected as University Innovation Fellows by Stanford University, continuing the growth of an initiative that North Carolina A&T has been participating in since 2015.

Juniors Dorian Holmes (Computer Science) and Jaelyn Phillips (Industrial Systems Engineering) will be part of a prestigious class of 400 students drawn from 90 colleges and universities across 13 countries. They are the fourth cohort of A&T students chosen for the Stanford program.

The University Innovation Fellows program is offered by Stanford's Hasso Plattner Institute of Design as a means to empower fellows "to ensure that all students gain the attitudes, skills and knowledge required to navigate a complex world and build the future." Fellows work closely with campus leaders to offer hands-on activities and programs for students with various interests.

A Silicon Valley Meetup during Spring 2020 will convene the larger group of fellows and allow them to learn from leaders at Stanford University and Google.


Trendline
Goal Surpassed, New Campaign Goal Set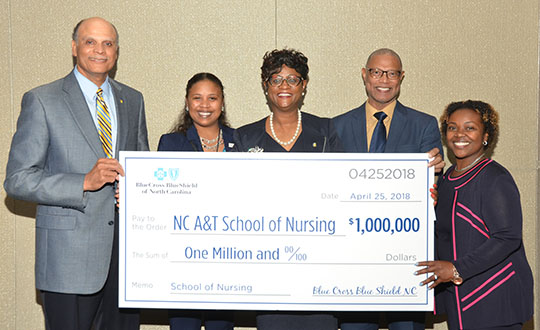 Blue Cross/Blue Shield of North Carolina's $1 million gift to A&T's School of Nursing is one of many major gifts powering the success of the Campaign for North Carolina A&T.
When the university publicly unveiled the Campaign for North Carolina A&T one year ago, the campaign was already well under way, with some $68 million raised in its silent phase. One year later, the fundraising effort has surged past its original goal of $85 million and has established a new target: $100 million by the end of 2020.
Already the largest capital campaign in A&T's history, the initiative has raised $87 million thus far for student scholarships, faculty support, academic program development and facilities. Nearly $42 million has been raised in student support alone, with nearly $33 million in hand for academic programs.
The campaign has also more than doubled the university's consolidated assets, which at the end of FY 2019 stood at $80.2 million, $68.5 million of which is endowment that supports academics.
While alumni support has grown dramatically during the campaign (see On Point, October 2019), gifts from non-alumni, foundations and businesses have all grown significantly, as well. The development staff and practices put in place during the campaign also bode well for a fundraising program that will sustain and grow the university and its impact well into the future.
It bears noting that the campaign's progress has been charted in a national environment where charitable giving to education has declined by 13 percent over the past two years. A&T alumni and other supporters continue to step up and buck the trends that are holding other institutions back.


These Three Things
Markers of Faculty Success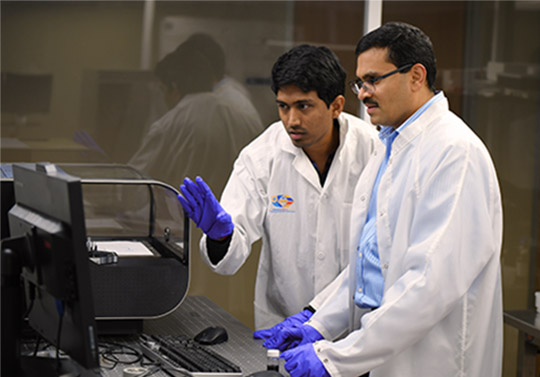 Dr. Desai (right) confers with a graduate student in his laboratory.
Over the past decade, North Carolina A&T has doubled down on its recruitment and support of research faculty, as it continues to build on its position as one of North Carolina's top three public research campuses.
That effort has attracted numerous outstanding scientists and engineers to Greensboro, many recruited intentionally from universities ranked in the top tier of the Carnegie Foundation's higher education classifications system.
One faculty member who has become a state and national standout during that period is Dr. Salil Desai, a professor of Industrial and Systems Manufacturing in the College of Engineering. As a junior faculty member, Desai won a National Science Foundation CAREER Award in 2008, and has been on an ever-rising trajectory ever since, as illustrated by these three things:
In 2016, Desai earned the University of North Carolina Board of Governors Award for Excellence in Teaching. Created in 1993, these awards recognize the extraordinary contributions of faculty members across the UNC system.

In 2017, Desai was honored nationally by the American Society for Engineering Education with its DuPont Minorities in Engineering Award. The annual award recognizes outstanding engineering educators for their commitment to the field, desire to further ASEE's mission and participation in civic and community affairs, exemplifying the best in engineering education.

Most recently, Desai received the Presidential Award for Excellence in Science, Mathematics and Engineering Mentoring last month from the White House. The award celebrates outstanding efforts of STEM mentors who "encourage the next generation of innovators developing a science and engineering workforce." As a recipient, Desai will collaborate with government, academia and industry on task forces focused on solutions for challenges and opportunities facing society.
In addition to his award-winning teaching, Desai is a highly active researcher, with a special focus on nano/micro manufacturing. He is also co-leader of the Center of Excellence in Product Design and Advanced Manufacturing.


Data Points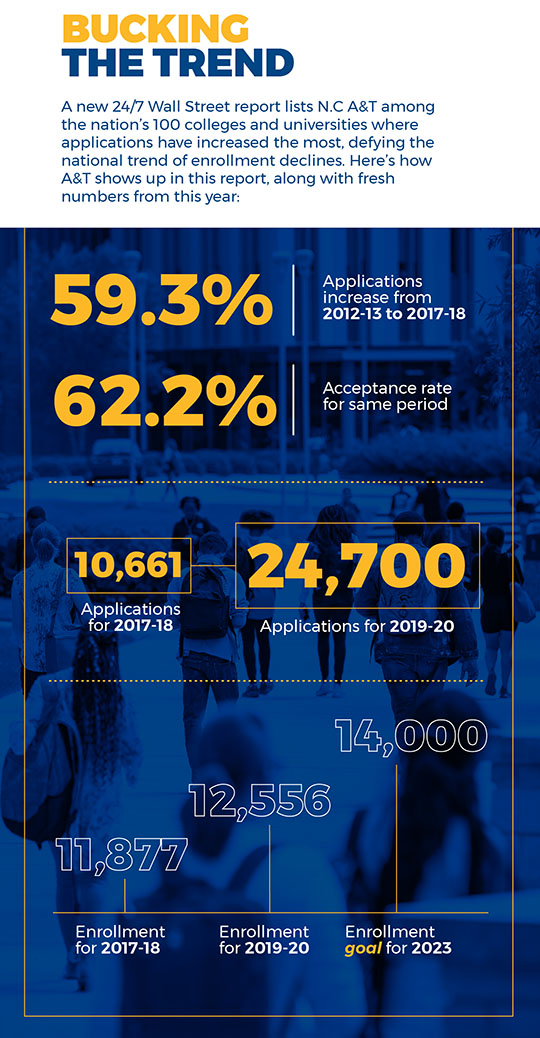 CHANCELLOR
Dr. Harold L. Martin Sr.

CHIEF OF STAFF
Erin Hill Hart


ASSOCIATE VICE CHANCELLOR
Todd Hurst Simmons

GRAPHIC DESIGNER
Kimberly "Nikki" Pressley



WEB MANAGER
Yvonne L. Halley

STAFF WRITERS
Tonya D. Dixon
Jordan M. Howse


North Carolina Agricultural and Technical State University is a land-grant university that is ranked by the Carnegie Classification of Institutions of Higher Education as a Doctoral University: High Research Activity.

N.C. A&T does not discriminate against any person on the basis of age, color, disability, gender identity, genetic information, national origin, race, religion, sex, sexual orientation, veteran status, or any other basis protected by law. For inquiries regarding non-discrimination policies, contact the Title IX Coordinator at titleixcoordinator@ncat.edu.

N.C. A&T is an AA/EEO employer, and it is an ADA compliant institution; thus, facilities are designed to provide accessibility to individuals with physical disabilities.